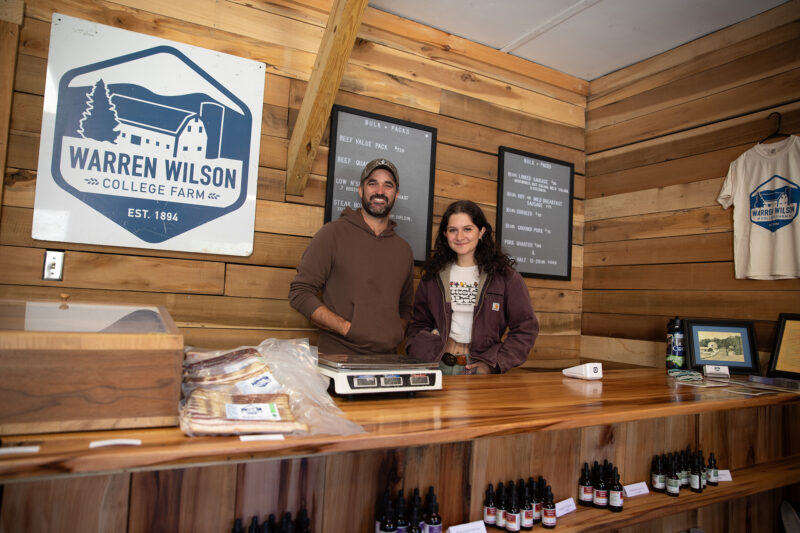 On Saturday, November 4 the community gathered for the grand opening of the Farm School General Store, a new retail space at Warren Wilson College. The store stocks all of our quality meat products, fresh vegetables, and items made by our Craft Crews and independent student makers. Our full line of Forest and Herb Crew products including teas, salves and tinctures will be available as well as coffee from our local partner Dynamite Coffee Company and College Farm memorabilia.
The Farm School General Store will be open Saturdays, 10 a.m. – 2 p.m. and will provide a space for the community to learn about opportunities to get involved with the College through workshops, lectures and demonstrations focused on the role of working lands in creating and protecting a vibrant and sustainable Western North Carolina.
Below Professor of Global Studies Jeff Keith describes the Grand Opening:
The day was beautiful–a gift in weather and community. People were shoulder-to-shoulder in the store, buying up frozen meat with the eagerness such a precious product deserves. A student band going by the name of Freemartin (a deep farm reference) played old-time tunes on the mobile stage built by students for such events. The guitarist (actually a world-class mandolinist) was Rainy Miatke, and I was happy to see Aidan Saunders ripping it up on the banjo because he has accompanied me on service trips–such as one to flood-ravaged East Kentucky last spring. (We're going again in March!) The full band was excellent; Nat, on fiddle, is a champion concert fiddler as well as a champion of our student work crew for the Music Department, and Sam, on bass, held the whole thing together.
I'd say a solid 25 percent of the people at the event I saw were from off-campus. People laughed, food was served, and a new tradition was born of all the work and worry. There were tours of the farm and its operations, and kids ran around chasing the rooster while the dairy cow received love amidst the people.
Blair Thompson (farm manager), Sienna Wire (assistant farm manager), and Jack Igelman (business professor) deserve great and special mention, but there are many others who made this happen. Of course, Dave Ellum coordinated the entire affair with his boundless New England energy–bringing down a battery-powered tractor to dazzle us with the coming future of a decarbonized energy future, and he worked the mic to celebrate and support the effort. You wouldn't believe what we might do if only we could get the house in order, and it sure seemed like the event was a sign of good things to come–not simply a throwback. By tending the land (and caretaking it as a treasure rather than simply using it as a resource) we are making a difference, building community, and embracing the bounty.