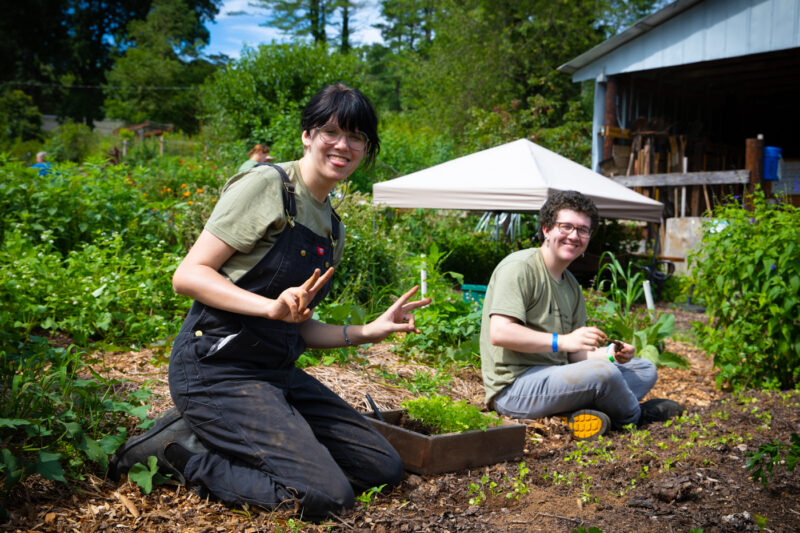 Nearly 350 Warren Wilson College students, faculty and staff started the school year by volunteering at 15 community organizations on Thursday, with many projects centered around issues of food security, education, and the environment.
Collectively, Warren Wilson students, faculty, and staff worked a total of 1,380 hours weeding, mulching, picking up trash, clearing brush, creating pathways, digging silt fences, painting, gardening, landscaping, planting trees and other work.
Service Day is part of Warren Wilson's new student orientation, a way for students to give back before they even start classes. It introduces incoming students to their community engagement commitment, which is a graduation requirement.
Students participate in Service Day together with their first-year seminars. Because all first-year seminars are community-engaged courses, many of the seminars will spend the day with the  organization that they will continue to work with for the duration of the semester.
For example, on Service Day the first-year seminar "The Outdoor Classroom: Exploring how Children Grow and Learn in the Natural World" worked with Verner Center for Early Learning.  The "Everybody's Environment: From Environmentalism to Environmental Justice" first-year seminar went to Asheville GreenWorks to work at their nursery site to mulch the orchard, repot trees, and tour their nursery.
"For our first-year students, Service Day is the beginning of a four-year commitment to community engagement," said Dr. Lynn Morton, president of Warren Wilson College. "We began this as a graduation requirement in 1960. These new students are following in the footsteps of several generations of Warren Wilson graduates dedicated to serving the larger community and making a lasting difference. And the students are changed and touched by the people they work side by side with throughout the year. That's pretty special."
Together, Warren Wilson students contribute more than 50,000 hours of community service to local nonprofit organizations throughout the year. The school was named one of the top 10 colleges "most engaged in community service" by the Princeton Review.
Service Day is one of several community engagement events that the college organizes throughout the year. The school also organizes recurring service trips with local community partners and break trips that sometimes involve travel to other states or countries.
The 15 organizations where students worked on Service Day included:
Asheville Greenworks
Dr. Wilson Community Garden
Stonecreek Health and Rehab
Christmount
Root Cause Farm
WNC Nature Center
Verner
ArtSpace
Evergreen CCS
The Educational Garden Project
Shiloh Community Garden
Owen Middle
BeLoved Asheville
12 Baskets Cafe (of Asheville Poverty Initiative)