In their short time since graduating from Warren Wilson College, Michelle Padrón '21 has seen both ends of the social work spectrum in Asheville. From providing crisis intervention and support for youth facing houselessness as a Case Manager to preventing youth crises as a Sexual Violence and Human Trafficking Prevention Educator, Padrón infuses community-mindedness into everything they do.
During their time at Warren Wilson, Padrón learned through their internship at Verner Center for Early Learning that they liked working with children. So immediately after earning their Bachelor of Arts in Social Work, that's exactly what they did, landing a job as Case Manager at Trinity Place: Runaway and Homeless Youth Shelter—temporary housing for children from 7 to 17 years old.
"I love the moments of joy with those kids, because they were going through really horrific situations, usually," Padrón said. "But watching them run around and build friendships with the other kids and have these moments of joy—with me and then also independently—it was really rewarding to see."
Padrón was on-site as residential staff for 12-hour workdays and also stayed overnight at the house three to four nights a week. They supported the children in every way, from performing assessments and intakes to leading counseling activities with the kids—and sometimes supporting their families as well.
Wanting to give back to their community was what first brought Padrón to Warren Wilson College's Social Work Program as a transfer student from a large state school. And building community was a major theme for them at the College, from organizing with the Alma Shippy Coalition to create the 2020 Black Student Union Demands for inclusive changes on campus, to meeting with members of the North Carolina General Assembly to advocate for a ban on conversion therapy for youth. Padrón's exceptional academics, work, and community engagement earned them the Alton F. Pfaff Cup, Warren Wilson's highest honor.
Padrón said it was their Study Away course to Cuba, though, that solidified their idea of community. "A tenet I live by—which is actually a protest chant: 'We keep us safe'—was really highlighted in Cuba. That's a neighborhood where people keep each other safe, a perfect example of that. That's something I now work toward and keep in the forefront of my work: how do we keep each other safe?"
The work at Trinity Place was very fulfilling, but also very intense, so Padrón started looking for ways to continue their community work in a new direction: prevention.
"I could see myself burning out in the future, and I really don't want that to happen," Padrón said. "So I thought it would be best for me to step away from direct services and do some prevention education work. It feels a little bit less intense, and a little more hopeful."
Following that hope, Padrón became the Sexual Violence and Human Trafficking Prevention Educator with Our VOICE, an agency dedicated to serving individuals affected by sexual assault and abuse. At first, they split their time between the shelter and the agency, but when Trinity Place later closed, they transitioned to full-time work at Our VOICE. In this new role, Padrón develops and presents prevention programs at middle and high schools throughout Buncombe County.
"A big tenet of the work for me is how we can support each other, how we can eliminate violence in our own communities. Because we know our communities the best, more than people on the outside would," Padrón said. "I really stress to the kids, 'Yeah, I have this knowledge, but I don't go to your middle school, I'm not familiar with the culture in the way that you all are.' I'm equipping them with these skills so that they can inform their own community and keep each other safe."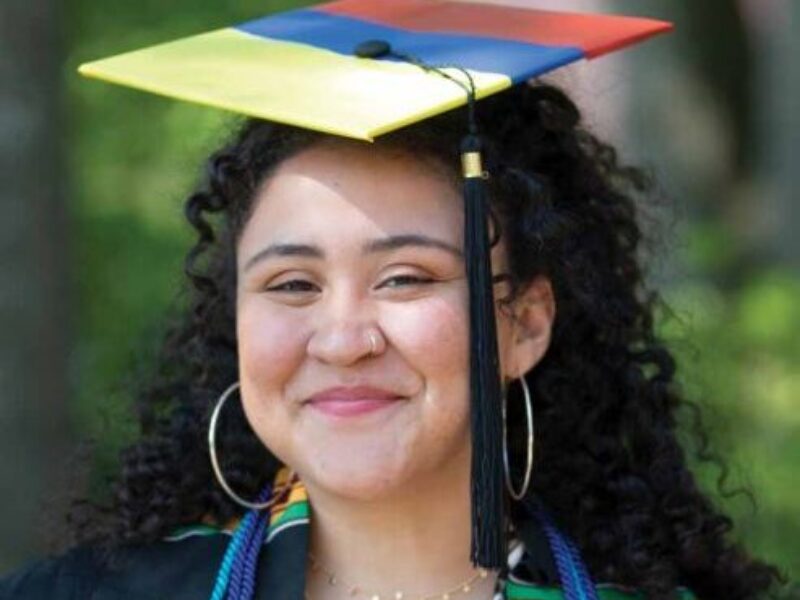 Fast Facts
Profession

Abuse Prevention Educator

Major

Social Work

Work Crew

Wilson Inclusion, Diversity, Equity (WIDE) Crew