"I've learned that there are a lot of leaders in the world," Lisa Gonzalez '02 said, "but we need followers too. You can't always be the leader; you have to learn to follow other people, especially people you're trying to help." When she first started her work in food systems, Gonzalez said she wanted to "save the world and bring people out of hunger," but she realized, "that was my privileged perspective going into it."
Gonzalez believes that you can't simply plop down a garden in a low-income community and then leave, expecting community members to take care of it for free. "Projects that are successful are the ones that are community-driven," she said. "And you can't think that you know what the community needs; you have to ask them, and you have to engage them in the process from the beginning."
Frequently, community problems stem from much larger, systemic issues. That's why Gonzalez is also active in political advocacy, and she likes to cut directly to the source. "Back in the day, I used to protest and go to marches, but now I just make appointments with my senators," she said.
Gonzalez used carrots as a metaphor. Before, she had always just pulled them up to eat a few months after planting the seeds. But carrots are actually biannual, so out of curiosity, she let one grow for its full life cycle. "By the time that carrot finally flowered and produced seeds, it was humongous, and it looked just like Queen Anne's Lace, which is wild carrot." She explained that, like the carrot, you cannot know a community from a one-time meeting, you have to put in the time and work to better understand how your service can support existing community-driven efforts.
Gonzalez said her time at Warren Wilson College and on the Environmental Leadership Crew built her character. "I feel really lucky that I went here in this peaceful, calm, conscious environment, because then I was able to go into the big wide world, the urban centers that I've lived, and still maintain this peaceful energy and positive attitude."
That attitude brought her success in a variety of settings. After earning her bachelor's degree in Environmental Studies with a concentration in Environmental Education, Gonzalez went on to bring hands-on lessons in gardening and cooking to children as a teacher at a Waldorf school in Florida. She later joined the University of Maryland Extension, where she held positions as a Gardening for Nutrition Educator and then a Family and Consumer Sciences Extension Agent, while earning her Master of Science degree in Nutrition and Integrative Health. Now, she is a District Food Systems Specialist with the University of Florida IFAS Extension. She supports schools, communities, and farmers to build strong food systems throughout Southeastern Florida.
"It is not about me, not about what I want, not about my career," Gonzalez said. "This country cannot be sustainable if all we're thinking about is ourselves. We have to step aside and think about other people, what they need, what the environment needs, what the world needs."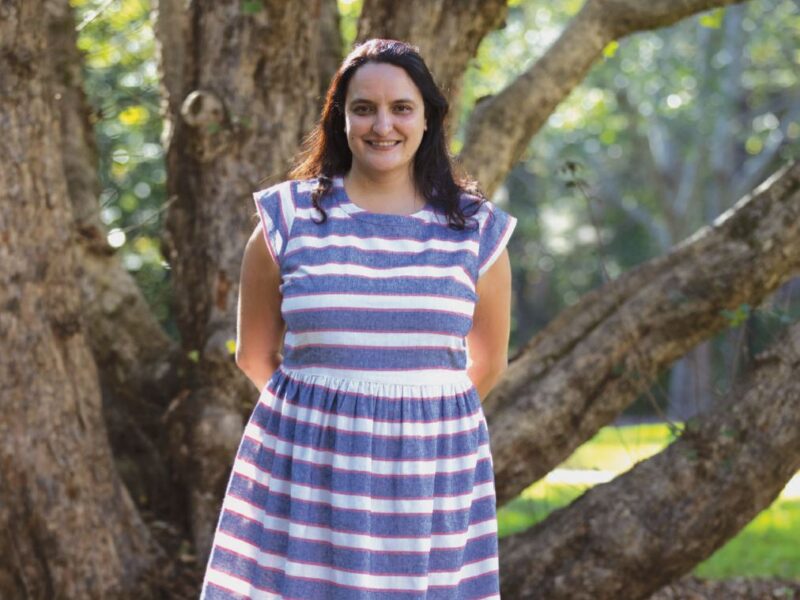 Fast Facts
Profession

Food Systems Specialist

Major

Environmental Studies

Concentration

Environmental Education

Work Crew

Environmental Leadership Crew