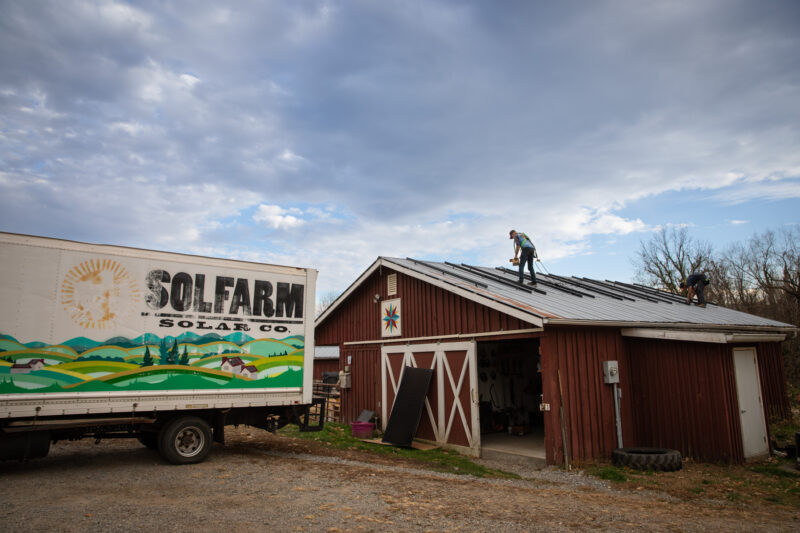 Warren Wilson College students and faculty have, in partnership with local solar company SolFarm, broken ground an off-grid charging system for the college's two new electric Solectrac tractors.
Led by The Center for Working Lands at Warren Wilson College, the project is the first stage of the college's plan to decarbonize all of its 900-acre land operations via the development of a 210KW agrivoltaic microgrid. The 15KW electric tractor charging shed features a 61.44 kWh battery system and two inverters, with an estimated completion date of mid-December 2023.
"With a projected population increase of 40 percent in Western North Carolina combined with the loss of over 350,000 acres of farmland since 1974, it's imperative that farmers and other land managers have innovative methods to face the climate crisis," said Dr. Dave Ellum, Dean and Director of the Center for Working Lands at Warren Wilson College. "This project creates a working landscape and resource for the farming community and students to understand and test new methods that can help their bottom lines while protecting the ecosystems within which they operate."
Unlike traditional ground-mounted solar electric systems, the college's agrivoltaic system will install its solar panels at a height above the college's production garden that will allow crops to grow normally and with limited permanent structures within the fields. Agrivoltaics systems in both Europe and the western United States have already shown success with a broad range of crops including annuals, perennials and forage. In partnership with the Critical Services Microgrid Group, the installation will be used for researching crop production, energy production and open to the public for demonstrations and workshops.
"This is a milestone project for Western North Carolina and Appalachia that allows us to dive deeply into the research needed for how we can support the farming and land management community and protect the land's biodiversity," said Kelly Gloger, Sales Lead of SolFarm. "We have an opportunity here to model the future of solar and farming for bigger solar energy production and pave the way for innovation."
The project is funded in-part by the band Pearl Jam, as one component of the band's environmental and sustainability commitment. The band also funded a feasibility study to explore implementing agrivoltaics at Warren Wilson College.