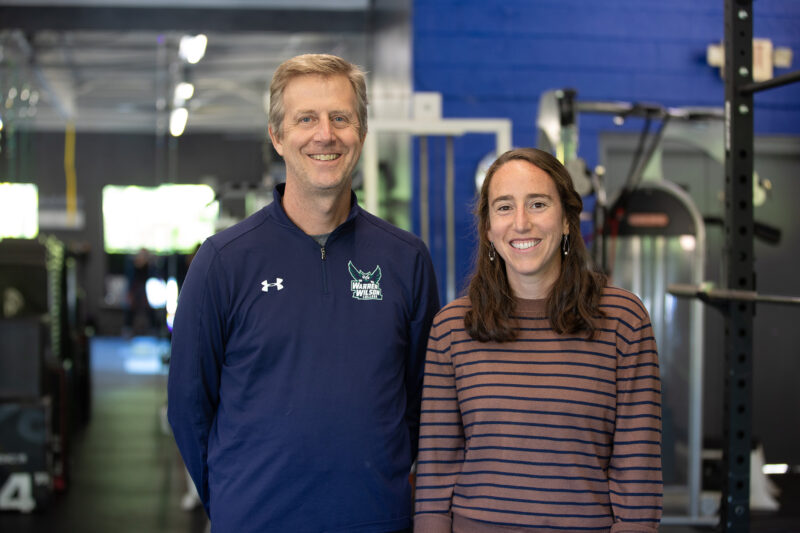 By Jake Frankel '02
Classes with Professor of Psychology Dr. Bob Swoap were a revelation for Marisa Romeo '15, marking a turning point that has led her to win ultramarathons and pursue a doctorate in Sport and Performance Psychology.
Romeo originally came to Warren Wilson College planning to study biology, but that changed when she learned more about Swoap's work with Olympic athletes to cultivate mindfulness and mental resilience. Swoap is an expert on resilience; he regularly presents at conferences and publishes on the topic. He also serves as the sport psychologist for USA Table Tennis—notably, he supported the team when the 2020 Summer Olympics were canceled due to COVID-19—and for the North Carolina State University Women's Cross Country team, who won their first national championship in November 2021.
"I didn't even know the field of Sport Psychology existed before meeting him, and it was eye opening, like, "oh my god I can study the science of exercise!' Now it's totally my passion," said Romeo.
She has pursued that passion ever since.
Romeo received her master's degree from East Tennessee State University in Sport Science and Coach Education, and now works full time as a Health and Fitness Science teacher at Asheville-Buncombe Technical Community College. She's also a Certified Personal Trainer, and she's on track to achieve her Ed.D. in Sports and Performance Psychology from the University of Western States in 2025.
A former captain of the Warren Wilson Women's Soccer Team and now an accomplished ultra–endurance runner, her academic studies complement her athletic pursuits.
"I do my own sport to personally experience those things that I teach. I'm fascinated by finding my own physical limits and capabilities, but I also use the sport to help my clients and athletes find their potential, so for me it's a bunch of exploration," said Romeo. "I want to be able to apply my own experience to help my clients."
Romeo has also maintained strong connections to the Warren Wilson community. Since graduating she has served the Owls as an Assistant Men's Soccer Coach, as the Sports Performance Director for the Men's Basketball Team, and as an assistant to the Cross Country Team. She also served as the Sports Performance Director for the Asheville City Soccer Club, a professional soccer team that is owned by former head Warren Wilson Women's Soccer coaches Lydia Vandenbergh and Stacey Enos.
Romeo's experience as a player on the Warren Wilson soccer team helped ignite a competitive fire that is now fueling her running. "I wanted to find more of my athletic potential, which I'm doing now through running. I keep working to push my own limits," she said.
Those limits have already stretched into elite territory, with Romeo winning extreme ultramarathons such as the rugged Hellbender 100-mile race in the Black Mountains of North Carolina, and breaking speed records on the 55-mile Georgia Loop. At the time of publication, she is preparing for a local race in November 2023 called the Looking Glass 100K, and an Ultra-Trail du Mont-Blanc (UTMB) race in Italy called the Lavaredo 120K in June 2024. One of her ultra-endurance heroes is Anne Lundblad (formerly Riddle), who worked as a counselor at Warren Wilson from 2001 to 2014 as she was gaining international fame as UltraRunning Magazine's two-time Ultrarunner of the Year.
Just as important as Romeo's physical training for the races is her psychological work in mindfulness and positive self-talk, she said, noting that, "once you reach a certain state of physical endurance, you can kind of go forever, so it becomes more about the mental side."
At Warren Wilson, Swoap first introduced her to the idea of mindfulness with a hands-on activity to focus students' attention on a raisin, helping them notice its subtleties. "Taking it slow and eating the raisin consciously was really a lesson about doing that in other aspects of your life," said Romeo. "The hands-on activities were the ones that had the biggest influence on me. And now I'm trying to follow that example and be hands-on in the classroom as a teacher. "
Swoap remembers Romeo as a stellar student. "She impressed me in so many ways," he said. " In my 15 years of teaching, she was one of a handful of the best students that I've ever had because she was so engaged."
The senior Capstone research she did with the help of Swoap's mentorship was also pivotal to her path. She built off of his previous research on "instant recess" activity breaks with elementary school students by studying the impact of short physical activities on the moods of her fellow college students. Her undergrad analysis earned her an invitation to present at an Association for Psychological Science conference, one of the most important psychological conferences in the country.
"I felt like Dr. Swoap's research was so important. Then doing similar research myself and going to that conference was a huge learning experience for me. I realized research can be fun, experimental and practical," she said.
Noting that one of her classes with Swoap only had four students, she credits Warren Wilson's small size and community focus with helping her "find my voice and my passion." She added, "None of my friends who went to big schools made lasting connections with any of their professors."
Swoap remains focused on giving students like Romeo the individualized support they need. "My role is to listen closely and ask the right questions. When a student feels heard, then there's a trust that comes out where they can really share their concerns, fears and excitements," he said. "It's unbelievably wonderful for me to see Marisa thrive. Like most mentors want, she's surpassing her mentor. I'm just really thrilled to be a part of her pathway in whatever way I may have helped."