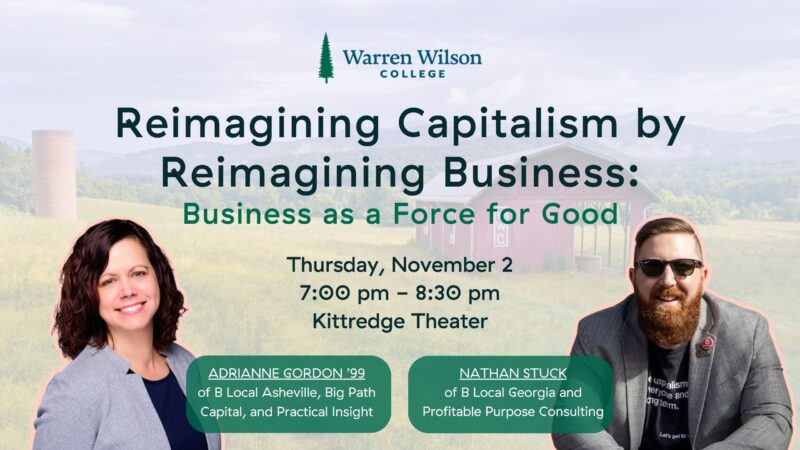 Keynote: Nathan Stuck, B Local Georgia
Co-Host: Adrianne Gordon, B Local Asheville, WWC '99 Alumna
Join us for a lecture, made possible by an Arthur Vining Davis Grant, that will change the way you think about business by reimagining the world we all want to live and work in. Could it be that good business is good for business? At some point in your life you will either work for someone or work for yourself and potentially employ others. How can we use business as a force for good in the world?
Nathan Stuck Board Chair of B Local Georgia, CEO and Founder of Profitable Purpose Consulting presents "Reimagining Capitalism by Reimagining Business".  Adrianne Gordon, WWC '99 Alumna, Board Chair of B Local Asheville, COO at Big Path Capital and Founder of Practical Insight will facilitate a panel discussion with local business leadership, for a thought provoking evening that will shape the way you do business in the world.
Learn about what it takes to be an entrepreneur with a focus on making the world a better place through business. Jael Skeffington, Co-Founder and CEO of French Broad Chocolates, Michael Whelchel, CEO of Big Path Capital, Clary Franko, COO Sugar Hollow Solar, Steve Linton, President at Deltec Homes, Brock Ashburn, VP of Operations at Highland Brewing Company
Certified B Corps are for-profit companies that lead with their values of sustainability, diversity, and community. They meet rigorous standards of social and environmental performance, accountability, and transparency – values that align with the WWC Business Department's Green Entrepreneurship focus. Our interdisciplinary business program integrates sustainability and social responsibility throughout a traditional business curriculum, rooted in the liberal arts.
Contact Info: afreyager@warren-wilson.edu
Cost: Free to Attend, Please Register
Panelists
Jael Skeffington, Co-Founder and CEO of French Broad Chocolates
Jael, the co-founder and CEO of French Broad Chocolates in Asheville, believes in using business as a force for good. What started in 2006 as a farmers' market stand has grown to 90 employees and includes an experiential Chocolate Factory & Cafe, a destination dessert restaurant – French Broad Chocolate Lounge, a growing online business, and a small chocolate boutique in Atlanta. Her chocolates have been recognized in many national and international awards, and she was the recipient of the WomanUp "Best in Business" award in 2016.
Michael Whelchel, CEO of Big Path Capital
Michael Whelchel, one of our event panelists, is Founder and CEO of Big Path Capital. In 2007 the old economy driven by the single gear of profit maximization reached a dead end in the financial crisis. It was a moment of reckoning during which Michael left his 15-year career in private equity to form Big Path Capital, leveraging the engine of capitalism for an expansive economy built on natural, social, and financial capital. Recognizing that impact investing isn't just a different way of investing but a superior way of deploying capital, Michael is committed to challenging the status quo and to raising the expectation of capital. In this vein, Big Path has created a number of first-in-class initiatives demonstrating SmarterMoney+: Maximize impact, Maximize return. These include the Five Fund Forum, Impact Capitalism Summit, and Impact & Sustainable Trade Missions. Michael received his BA summa cum laude, Phi Beta Kappa from the University of the South in Sewanee, TN and received a joint MBA and MEM (Master of Engineering Management) from the Kellogg School of Management, Northwestern University.
Clary Franko, COO Sugar Hollow Solar
Clary is the Chief Operating Officer at Sugar Hollow Solar, the largest locally-owned solar company in western NC. After graduating summa cum laude from Appalachian State University where she chaired the Renewable Energy Initiative, she became an environmental organizer throughout the east coast. In 2012, Clary helped launch a mission-driven solar company in Vermont. Returning to her Southern Appalachian roots, she joined the Sugar Hollow team, originally as Director of Marketing, in 2020. Clary serves on the Blue Horizons Project Community Council, a non-profit working to get Buncombe County to 100% clean energy by 2042. She lives in West Asheville with her partner and pup, and is an active member of the local Ladies Climbing Coalition and Asheville AcroYoga community.
Steve Linton, President at Deltec Homes
Panelist Steve Linton, president of Deltec Homes, is among the leaders in the nationwide movement to build the next generation of home. In business for more than 50 years, Deltec is a certified B-corporation that specializes in building sustainable, hurricane-resistant, and beautiful panoramic homes using components produced at its Asheville, NC headquarters. Managing a team of more than sixty employees, Linton is on a mission to change the face of housing by not just setting the bar for technical performance but by designing homes that reconnect people with the natural world. He understands what it takes to build a home in a severe wind environment. From planning to design to construction, he is focused on the details of building the most durable homes possible for the harshest weather nationally and internationally. His continual focus on innovation means that he is always looking to raise the bar for Deltec Homes and is currently spearheading a new Deltec design framework that will allow its homes to be designed to resist up to 225 mph winds. Linton as a degree in Civil Engineering from Cornell University, a master's degree in business from Western Carolina University, and is a leadership fellow at the Thayer Institute. He is also a LEED (Leadership in Energy and Environmental Design) Accredited Professional and has been a green building consultant for ABC's Extreme Makeover program.
Brock Ashburn, VP of Operations at Highland Brewing Company
Brock Ashburn works at Highland Brewing Company in Asheville, NC. His role has morphed from staff engineer and contractor around 2011, to Vice President today. At the same time, he serves as husband of the President, and son-in-law of the founder. He has been self-employed as a licensed engineer since 1998 and as a general contractor since 2000, with a breadth of design/build experience in residential, commercial, and site development/construction. Inheriting a building that was originally built in the 1950s and added to over the next 20 years has presented Highland with many challenges. These challenges have provided opportunity to recycle, reuse, and improve many systems and processes in the brewery during the seemingly unending construction cycle of hospitality related facilities, packaging hall upgrades, brewhouse enhancements, solar array additions, etc. over the last 5 years. Brock seeks to continue the trend of sustainability and reduction of energy use while implementing new and improved machines, systems, safety, and processes throughout the facility.