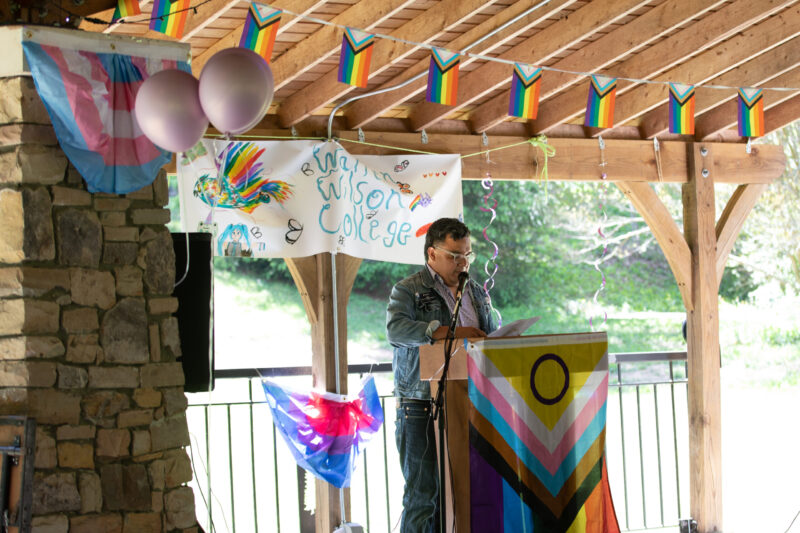 This year Warren Wilson College started a new tradition — Lavender Graduation.
This special event honored lesbian, gay, bisexual, transgender and queer students, acknowledged their achievements and contributions to the College, and celebrated queer joy and queer excellence.
Nearly 70 people attended, with 54 students receiving lavender cords to wear at Commencement. That makes up more than a third of the graduating class.
"With over 50 percent of Warren Wilson students identifying as queer it only made sense to me to offer a Lavender Graduation, a tradition that has been held at institutions across the country since 1995," said Jonathan Gonzales (JoGo), Director of Student Activities & Queer Life at Warren Wilson College. "There are at least 12 other NC colleges that hold Lavender Graduations, and I wanted Warren Wilson to be among those."
The Lavender Graduation Ceremony movement was created by Dr. Ronni Sanlo, a Jewish Lesbian, who was denied the opportunity to attend the graduations of her biological children because of her sexual orientation. It was through this experience that she came to understand the pain felt by her students.
Encouraged by the Dean of Students at the University of Michigan, Dr. Sanlo designed the first Lavender Graduation Ceremony in 1995. The first Lavender Graduation began at the University of Michigan in 1995, with three graduates. By 2001, there were over 45 Lavender Graduation Ceremonies at colleges and universities nationwide. Graduating students, including undergraduates and graduates, are invited to take part in the celebration, which typically occurs each year the week prior to university-wide commencement events.
The inaugural event at Warren Wilson included remarks by the Rev. Elizabeth Rawlings '00, alum of Warren Wilson College. Their address centered on things graduates can do to thrive in the face of increasing oppression and vitriol, such as learning queer history, creating and maintaining community, and making time for joy. The text of her speech can be found here. Rawlings is a queer pastor and anti-racist organizer in the Evangelical Lutheran Church in America. They work as a Facilitator at the Community of Spiritual Practice in Asheville.
Graduating senior Finnegan-Eustace Leclair received the Outstanding Student Leader Award. The award recognized them for their commitment to enhancing the queer student experience at Warren Wilson College.
Outdoor Leadership Program Manager Eli Mills was recognized with the inaugural Advocate for Queer Excellence Award at the ceremony.