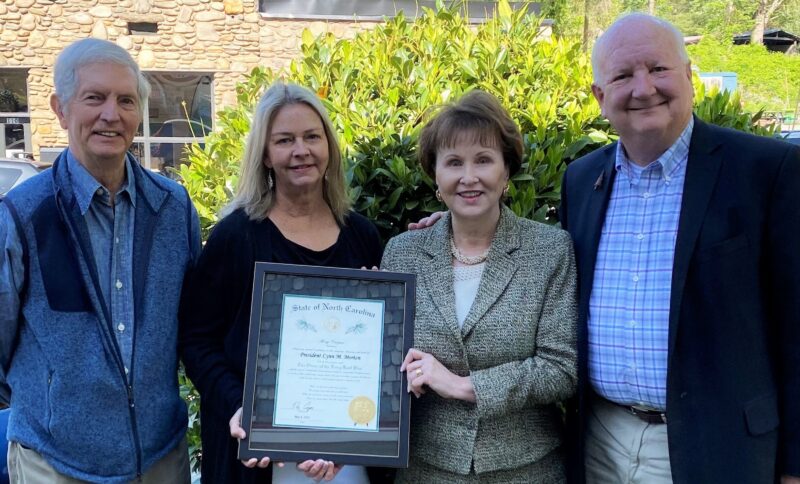 President of Warren Wilson College Dr. Lynn Morton has been awarded the Order of the Long Leaf Pine, the highest honor a North Carolina governor can confer for state service. 
Morton has served as president of Warren Wilson College since July 2017. She announced her retirement at the end of the 2021-2022 academic year. She was the eighth person and first woman president of the school. 
During her time at the college, Morton led multiple initiatives to increase undergraduate enrollment, including expanding athletics and entering the process to become a NCAA Division III school. The college introduced two free tuition scholarship programs to offer greater access to a Warren Wilson education (NC Free and Milepost One), fostered relationships with the local community in Asheville, Swannanoa and Black Mountain, as well as regionally and nationally, and had record-breaking fundraising results year-over-year. She provided a vision for new academic programs and led the college through the pandemic. The college also created a strategic plan that resulted in a new mission statement: "Warren Wilson College's distinctive approach to education intentionally integrates academics, work, and community engagement to cultivate curiosity, empathy, and integrity. We empower graduates to pursue meaningful careers and lead purposeful lives dedicated to a just, equitable, and sustainable world."
Morton created an atmosphere at Warren Wilson College where students of all political persuasions and walks of life feel they can express their opinions but be challenged as well. She engaged the college in a strategic enrollment process to broaden its appeal to students and to promote diversity and equity; held "Deliberative Dialogues" on campus; and gave oversight to the construction of a new $6 million academic building.
She currently serves on the Executive Committee of the NC Campus Compact, is Chair of the Finance Committee of the Appalachian College Association Executive Committee, and Secretary/Treasurer of the Work Colleges Consortium Presidents Council.
Prior to coming to Warren Wilson, Morton served 27 years at Queens University of Charlotte, including positions as provost and vice president for academic affairs. She also served as dean of the College of Arts & Sciences, associate vice president for academic affairs, and chair of the English department. Morton has spent her career as a teacher-scholar and administrator focused on student learning outcomes and career development; curricular innovations; career development; diversity, inclusion, and community engagement initiatives; institutional advancement; and academic excellence. 
Morton is also the recipient of multiple awards for superior teaching and recently completed the Council of Independent Colleges Executive Leadership Academy. Morton earned her Ph.D. from the University of South Carolina-Columbia in Renaissance and Medieval Literature, her M.A. from the University of Nevada-Reno in British Literature, and her B.A. from University of North Carolina-Greensboro.
Dr. Hope Williams, president of North Carolina Independent Colleges and Universities, nominated Morton for the award. 
"Dr. Morton's extensive career in higher education in North Carolina, culminating in her presidency of Warren Wilson College, has been so distinguished at Warren Wilson and in the broader higher education continuum of our state that I wanted to be sure her accomplishments were acknowledged and celebrated," Williams said. "Her deep commitment to Warren Wilson, and to its transformational role in the lives of students and families, has been clear in her words and actions since she first became president."
Lach Zemp, Chair of the Board of Trustees, spoke of Morton's leadership during her presidency.
"During her five years of strategic and focused leadership, Warren Wilson College has not only weathered a host of challenges facing colleges and universities across the country but has experienced growth in enrollment and strengthening of its core values," Zemp said. "Because of her hard work and achievements, Warren Wilson's place on the landscape of higher education offers students not only an excellent education, but a place for them to instill the values of hard work and community that are much needed in the current environment. We will sorely miss her."
Morton was presented with the Order of the Long Leaf Pine at a private ceremony with family and close friends on Thursday, May 12.
The Order of the Long Leaf Pine is among the most prestigious awards presented by the governor of North Carolina. The award honors those with more than 30 years of service to North Carolina and who have made significant contributions to the state and their communities through their exemplary service and exceptional accomplishments. Contributions to their communities, extra effort in their careers, and many years of service to their organizations are some of the guidelines by which recipients are selected for this award.