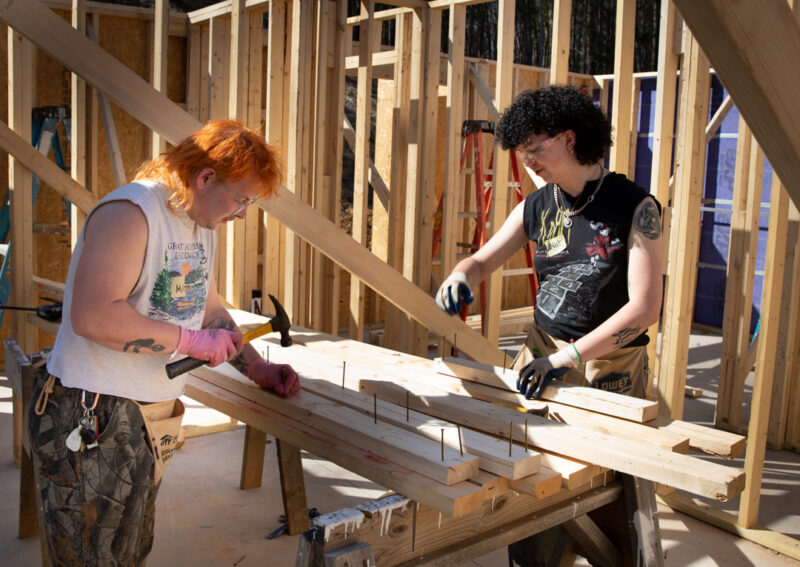 While some students spend their Spring Break at the beach or hanging out with friends, groups of Warren Wilson College students used that time to make a difference in the community. 
Their volunteer work included building houses for Habitat for Humanity, prepping the gardens at Christmount, and doing field archaeology work at the Carson House in Marion. 
Community engagement is a graduation requirement at Warren Wilson. These projects fulfill that requirement and prepare students for lives of social and civic involvement.
Habitat for Humanity
At a Habitat for Humanity build site in West Asheville, students worked for a week digging footers, painting, landscaping, and even putting up a roof. The houses they helped build will provide affordable housing to those in need.
Habitat for Humanity of Asheville seeks to address the housing crisis by empowering homeowners to save more, invest in education, pursue opportunities and have greater financial stability.
Warren Wilson student leader junior Miles Lamberson said the project hit close to home. 
"I've experienced housing insecurity in my life, and I think it's a really messed up thing that people can go without a house," Lamberson said. "I really like doing construction work and manual labor, and this is a very fulfilling project for me. I think about how different my life would have been if I had grown up in a house my parents could afford."
Over the course of the week, students had the opportunity to both engage in the physical building of the homes and also meet to talk about big topics relating to affordable housing, such as racial discrimination in housing and examining possible solutions to the housing crisis.
"It feels important to talk about why Habitat exists and why we're doing what we're doing, in addition to just doing it," Lamberson said.
The team also met some of the homeowners who will soon move into the homes they were building. Qualified homeowners pay an affordable monthly mortgage that is equal to or less than 30% of their gross monthly income. To learn more about Asheville Habitat, visit https://www.ashevillehabitat.org/. Click here to see Lamberson speaking about the project on WLOS.
Christmount
At Christmount Assembly in Black Mountain, students spent the week creating garden infrastructure. They did work in the sensory garden and sound garden, planted raised beds for mobility access, and turned over the ground for spring planting.
The gardens are used during summer programming for Camp Lakey Gap, a camp for students on the autism spectrum, Sunshine Retreats, a program for those with developmental disabilities, and Fern Way Farm School, a forest and field-based outdoor learning camp.
The Warren Wilson students took on projects such as tilling the soil, planting seeds, building a new compost system, painting garden signs, sanding and staining a front porch swing, and laying a flagstone path.
Archaeological Field Work
Another group of students spent Spring Break doing archaeological field work at the historic Carson House in Marion. 
Over the course of the week, the students excavated the site of a former addition to the home, which once was a kitchen and may have also included guest bedrooms.
The Carson House was built in the late 1700s and now serves as a historical museum. Between 1843-1845 it served as the seat of McDowell County government. 
The excavation gave students hands-on experience in history.
"I've wanted to be an archaeologist since I was 7," said Ali Minnihan, a junior Sociology/Anthropology major with a concentration in Archaeology. "I love history, and with archaeology you get to do history."
She said it was exciting to find the foundation of what used to be the kitchen, as well as multiple artifacts such as pieces of pottery and an animal bone.