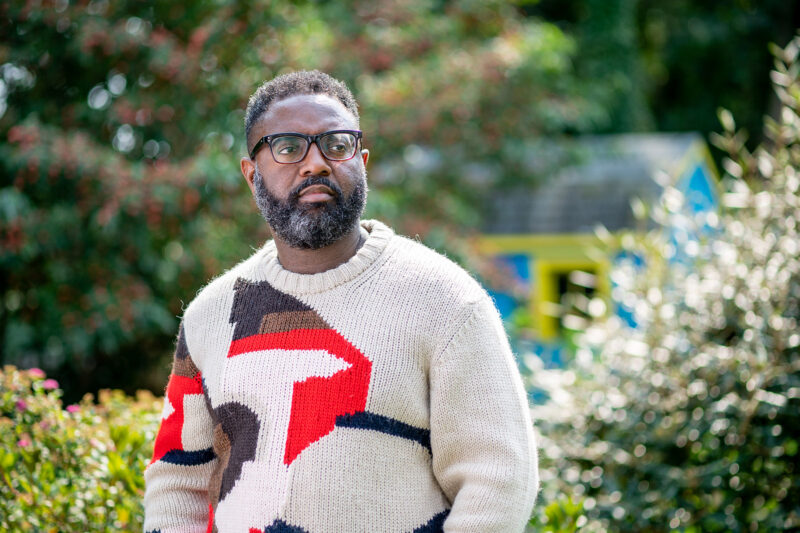 Reginald Dwayne Betts, a 2010 graduate of the Warren Wilson College MFA Program for Writers, has been awarded a MacArthur "Genius" Fellowship.
The MacArthur Foundation awards unrestricted $625,000 fellowships annually "to talented individuals who have shown extraordinary originality and dedication in their creative pursuits and a marked capacity for self-direction," according to the foundation. Betts is one of 25 recipients this year.
Betts is a poet and lawyer who promotes the rights and humanity of people who are or have been incarcerated. His work is informed by his years spent in a maximum-security prison after being tried as an adult for a carjacking at the age of 16.
"For over a decade we've been proud of and grateful for Dwayne's numerous remarkable accomplishments in his poetry, his study toward a career in law, and his pioneering efforts toward promoting the rights of the incarcerated. Dwayne's achievements as a poet and as a lawyer are the embodiment of what our program's writers recognize as our lifework — the value and power of creative thinking on the page and in our lives," said Debra Allbery, director of the MFA Program for Writers at Warren Wilson College. "We're grateful for what the support of a MacArthur Fellowship will make possible for Dwayne's current and future initiatives — including his new Freedom Reads nonprofit — and for his indelible poetry."
Betts recently launched the nonprofit Freedom Reads to give incarcerated people access to the power of literature. Freedom Reads donates books and shelving for libraries, organizes author visits, and sets up book circles in prisons and juvenile detention facilities. Through his profoundly moving poems, public defense work, and advocacy efforts, Betts provides a unique perspective on the lifelong impacts of incarceration and the injustice of a criminal justice system that relies so heavily upon it.
Betts holds a BA from the University of Maryland and a JD from Yale Law School. He is currently completing his Ph.D. in Law at Yale. His numerous awards include NEA, Guggenheim, Soros, Ruth Lilly, and Radcliffe fellowships. His publications include the poetry collections Shahid Reads His Own Palm (2010), Bastards of the Reagan Era (2015), and Felon (2019), and the memoir A Question of Freedom: A Memoir of Learning, Survival, and Coming of Age in Prison (2009).
Betts was a Holden Scholar while enrolled in the MFA Program for Writers at Warren Wilson. That scholarship, founded in 1996, covers all tuition and fees for a writer of color. 
He returned to Swannanoa in 2018 to deliver the Warren Wilson College commencement address and was presented with an honorary doctorate of letters. The doctoral hood used in the ceremony belonged to former Warren Wilson President Ben Holden and was originally given to Betts by Betty Holden in 2011.  
Betts' recent honor expands the family of MacArthur recipients within the MFA Program for Writers at Warren Wilson. Four faculty members — Eleanor Wilner (1991), Andrea Barrett (2000), Heather McHugh (2009), and Ellen Bryant Voigt (2015) — as well as 2017 fiction alumna Laura Otis (2000)—are all previous Fellows. 
In a video interview Betts recorded in 2016, he reflected on the ongoing impact of the MFA faculty he studied with — Reginald Gibbons, Gabrielle Calvocoressi, Heather McHugh, and Martha Rhodes — as well as the enduring importance of the example set by our program's founder Ellen Bryant Voigt.
"I'm in law school now," Betts said at the time, "and it's pretty obvious to most people in society that they think of the study of law as something that's rigorous and that requires strong intellect. People don't always think about writing that way, and what I learned from Ellen is to approach this and understand that it requires strong intellect. And that it's something that you can go to and invest your life in, you can invest yourself in, and recognize that it's not easy lifting. It gets its joy and its pleasure out of the heavy lifting that it is."
Read more:
The MacArthur Foundation website