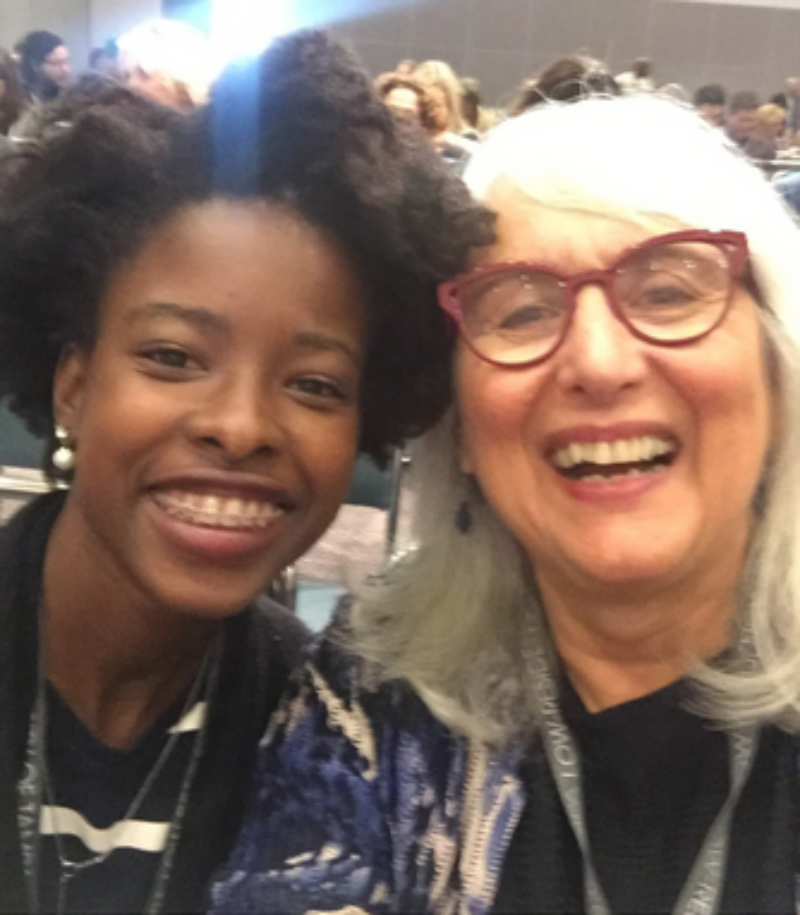 Story by Rob Eshman
Originally published on Forward
A lot of us shed tears when Amanda Gorman recited her poem "The Hill We Climb" at the inauguration of President Joe Biden.
Warren Wilson alum Dinah Berland (MFA '95) didn't just cry, she screamed.
"Oh my goodness, I was just thrilled," Berland, a Jewish poet and author who has been a mentor to the young poet laureate. "I knew she would rise to the occasion, because of who she is."
Berland started working with Gorman, who is now 22, six years ago. She has seen an already-gifted girl grow, through hard work and focused ambition, into the young woman who commanded the national spotlight — and will be in it once again on Sunday when she is scheduled to recite a poem at the Superbowl pre-game show.
They met in the spring of 2015 at the Museum of Contemporary Art in downtown Los Angeles, where Gorman was reciting a poem as part of WriteGirl, a nonprofit that empowers girls through self-expression. Berland, an accomplished poet and author, had come because she wanted to serve as one of the group's mentors.
"Amanda got up there and she was so far superior to the other kids," Berland recalled in an interview last week. "I wanted her to know she was special."
So Berland followed her out of the museum and found Amanda sitting alone on a bench.
"I introduced myself, and I said hoped she would take her work seriously," Berland said.
A few weeks later, someone from WriteGirl called Berland to say the group had "the perfect young girl" for her—Amanda Gorman. She was already well on her way, having been selected as Los Angeles Youth Poet Laureate in 2014, and publishing a book of poetry, "The One for Whom Food Is Not Enough" in 2015.
Gorman's passion was clear. In a poem published in a WriteGirl anthology when she was 14 years-old, she wrote, "Poetry is your voice when you don't have one/It is who you are when you don't know."
Berland, who has an MFA from the Program for Writers at Warren Wilson College, has published prize-winning poetry, and also wrote "Hours of Devotion: Fanny Neuda's Book of Prayers for Jewish Women" (Schocken, 2007), a verse adaptation of the first Jewish prayer book by a woman. Her poetic translations channel Neuda's 19th-century voice through a modern sensibility.
The two women, 60 years apart, began working together at a Coffee Bean and Tea Leaf in West Los Angeles.
"She was primarily a spoken-word poet," Berland recalled. "Maya Angelou was her favorite. So we studied poetry on the page, how poems live on as literature.
"She's really a genius, totally brilliant," she added. "She wanted professional guidance from a writer."
Sitting in the noisy café, Berland and Gorman read poets like Terrance Hayes and Yusef Komunyakaa. They read Rita Dove, the first African-American to hold the title of U.S. Poet Laureate, and Natasha Trethewey, a more recent U.S. Poet Laureate.
Berland gave Gorman assignments she herself had in graduate school, which she said Gorman aced, though she was just 16. Berland gave Gorman prompts to write from, and Gorman, to Berland's astonishment, would be able to concentrate and write amidst the din. On her own, Gorman devoured biographies of poets.
"She wanted to understand how poets became poets," Berland said.
Gorman, who was raised by her mother, who teaches in public school, pursued every opportunity, including the Milken Scholars Program, which provides financial assistance to a select group of high school students.
"She's very enterprising," said Berland. "You know how she got to Milken? She picked up a flyer. She found things out herself. She wanted to succeed, she wanted to go to a good school."
In 2016, Gorman went to Harvard University on a full scholarship, and Berland's formal mentorship ended. The two women continued to meet and talk poetry when Gorman returned home to Santa Monica during the summer. In 2017, Gorman was selected as the first National Youth Poet Laureate and invited to recite a poem at a Library of Congress program honoring Tracy K. Smith as America's Poet Laureate.
Gorman's mother couldn't attend, so Berland flew out and the two shared a room in a Georgetown hotel.
By then, the young poet had become obsessed by the musical "Hamilton," which would resonate, famously, in her poem at the inauguration.
"She would be sitting in the room putting on makeup and singing it," said Berland. "She had it memorized."
At the Library of Congress, Gorman read first, a poem she wrote for the occasion, "An American Lyric."
Berland clearly remembers the first line: There is a poem in this place.
When Gorman finished, the crowd in the packed auditorium gave her a standing ovation. People rushed to congratulate her.
"She couldn't get out," Berland recalled.
I saw the same reaction on the dais following the inauguration. What, I asked Berland, is the power of her poetry?
"'There is a poem in this place,'" Berland responded, quoting that opening line from years ago. "What I think is unique about her is her vision of herself in the stream of history. She understands her place in history and writes her poems from that depth of understanding. At 17, she was writing about her ancestors. That is where she gets her strength, from that sweep of history."
They are, then a fortuitous match. Berland's own work, including her book of Neuda translations, often channels her Jewish ancestors — or, as Berland put it, "voices that echo through the centuries."
As for Gorman, Berland said "she has gone from one success to the next."
"This is her medium," Berland said proudly. "Being able to speak to the public through poetry."
This story was originally published on Forward, a not-for-profit association that delivers incisive news coverage of the issues, ideas and institutions that matter to American Jews.