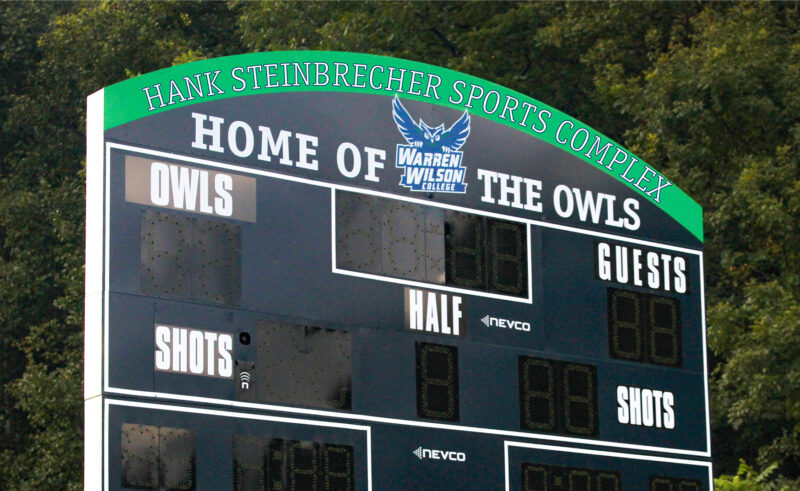 Warren Wilson College has announced the naming of its soccer and lacrosse complex in honor of legendary coach Hank Steinbrecher.
Steinbrecher coached Warren Wilson's men's soccer team from 1973 to 1978. During this time, his teams racked up an impressive 45-22-6 record, including capturing the National Association of Intercollegiate Athletics (NAIA) District 6 title. He was named the NAIA Coach of the Year in 1975. He went on to become an American and international soccer leader as the secretary general of the United States Soccer Federation for 10 years. He played the leading role in bringing two FIFA World Cups for Women and Men to the United States and was instrumental in bringing soccer to prominence in the United States. 
"I am grateful for all of Hank's contributions to the sport," said Will Wilson, the current CEO of U.S. Soccer. "Inspiration is a theme when it comes to Hank. He is truly one of the game's true pioneers. It is because of people like Hank whose shoulders  we are standing on that will bring a third FIFA World Cup to America in 2026."
A group of Steinbrecher's former players and friends, led by Warren Wilson College alumnus and Board of Trustees member Andy Scott (class of 1975), began planning to raise the funds to name the complex in February. Thanks to more than 100 donors, the College received over $85,000 in gifts and pledges. Now that this goal has been achieved, "Team Hank" is working to raise funds for an endowed scholarship in Steinbrecher's name. 
"The longest lasting and most influential mentor in my life has been Coach Hank Steinbrecher," Scott said. "He has always been there for me, as a teacher and coach, friend, professional associate, and the finest citizen patriot I have ever known. Honoring Hank Steinbrecher for a life well-lived in the service to others was a mission I knew hundreds would want to participate in and support."
When Steinbrecher arrived at Warren Wilson College, there was no women's soccer team. He welcomed a female student onto the 1974 men's team before Title IX became an effective tool for equity for women athletes. He went on to support student efforts to establish a women's team. 
"Glenda Hurst Wells wanted a place to play and Hank gave her a place at the table," said Diana Young Piava, a 1980 graduate of Warren Wilson College who played on the women's soccer team at the time. 
During his time at Warren Wilson, Steinbrecher lifted the small college program to regional prominence, and ignited the entire community in the process. His former players have noted that Hank showed them what it means to have heart. He inspired them to train hard, play fiercely with passion, and leave nothing on the field. He taught them to rely on each other and to honor the team.
"Warren Wilson College served as the foundation of my long career in soccer," Steinbrecher said. "As a team, we developed a very close bond that has lasted some 45 years. We as a team are still close. That team lives to my heart and they all have gone on to form successful lives. They have been hard-working, educated citizens. The lessons that I learned from the Warren Wilson College community were fundamental to my success in sport. I will always carry in my heart, the thoughts of our teams and our college."
After he left Warren Wilson, Steinbrecher coached first at Appalachian State University and Boston University before joining the Gatorade/Quaker Oats Company, and finally, U.S. Soccer. There he oversaw the staging of two of the most successful men's and women's World Cups, held in the United States in 1994 and 1999. Steinbrecher has been selected into seven Soccer Halls of Fames, including the National Soccer Hall of Fame and the North Carolina Hall of Fame. He was inducted into the Warren Wilson College Hall of Fame in 2013.
"Hank gave me the mantle of his passion and commitment. The germ of the idea of the Women's World Cup in 1999 came from him," said Alan Rothenberg, former president of U.S. Soccer who oversaw the 1994 FIFA World Cup. "All of these things that happened (at U.S. Soccer) in the 1990s would not have happened without Hank."
Donated funds have already been used to purchase a new scoreboard. In addition, the college is planning more improvements to the complex in the future.
"I would like to thank Andy Scott for his tireless leadership and dedication towards this fundraising effort. I would also like to thank everyone who donated and the 'Friends of Hank' for making this possible," said Joni Williamson, Warren Wilson College Director of Athletics and Adventure Sports. "What a wonderful way to celebrate Hank's life and the impact he has had on so many people and the sport of soccer."
Anyone who wishes to make a gift to support the Hank Steinbrecher scholarship can contact Mark Newman, Director of Development at 828-771-3756 or by email at mnewman@warren-wilson.edu.