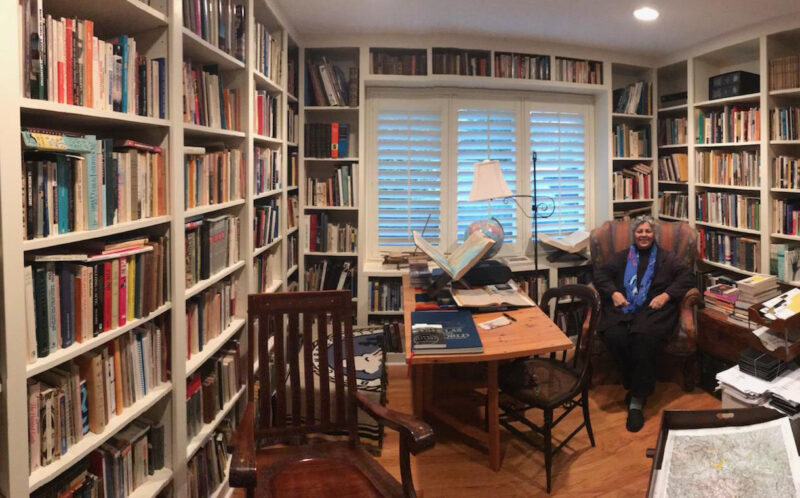 Elizabeth O. Colton, Ph.D. grew up in Asheville, N.C. and went on to live in 13 countries and work in 120 countries throughout her career as an award-winning diplomat in the Peace Corps, U.N. and U.S. Foreign Service; as a Fulbright Scholar; as an Emmy-winning journalist, reporter, and editor; as a teacher of elementary and secondary schools; and as a professor at the university level. She earned her Ph.D. in Social Anthropology from the London School of Economics and she currently serves as professor teaching online courses in diplomacy and media for UNITAR (United Nations Institute for Training and Research). Over the course of building a strong relationship with her, it became clear to College administrators that her experience would be very valuable to Warren Wilson College, and the whole College community looks forward to working with her in a formal capacity, as the Diplomat and Journalist-in-Residence position for the 2020-2021 Academic Year.
"Every day I am active in global communications, including conversations, with students, educators, journalists, diplomats, scholars, friends of all kinds all around the world and locally," Colton said. "Yet I have always attributed much of my adventurousness and interest in creativity to my amazing childhood growing up in the ancient mountains of WNC and wish to share that story. Here Warren Wilson College, which for me had been an international center, was and still is the place I have wanted to be connected back with as a special academic center to continue growing and sharing my worldwide connections."
In her role as Diplomat and Journalist-in-Residence, Colton will serve as a professor, scholar, diplomat and communications expert to teach, lecture and mentor students and to promote Warren Wilson College locally, nationally and globally.
"We're so fortunate that Liz reached out to us to offer her experience and connections to Warren Wilson," President Lynn Morton said. "Her career is incredibly inspirational, and so many of our students are interested in living and working internationally when they graduate. I've personally enjoyed connecting with Liz and hearing her stories. I'm pleased to work with her in this official capacity to share her experiences with our community."
Colton's international connection to Warren Wilson began when she was young. She said, "Warren Wilson College was where our parents brought us to introduce us to international events, and always on holidays my parents arranged with the college to bring at least one, sometimes several international students to stay with us over the holiday and always several for our big meals." 
New Vice President for Academic Affairs Jay Roberts Ph.D., who started at the College in June 2020, will work closely with Colton to determine ways she will connect with academic programs. 
"The fact that Liz has built programs and taught students at the university level, in addition to her work as a diplomat and journalist, brings great benefits to the college and our faculty," Roberts said. "Meeting with her in my first months here was an exciting introduction to the Warren Wilson and Asheville communities — there are so many resources in our region for our students, and I'm thankful that Liz is now officially one of them."
Colton is already beginning to work with students in their classes in the fall and is slated to do a lecture in the spring.