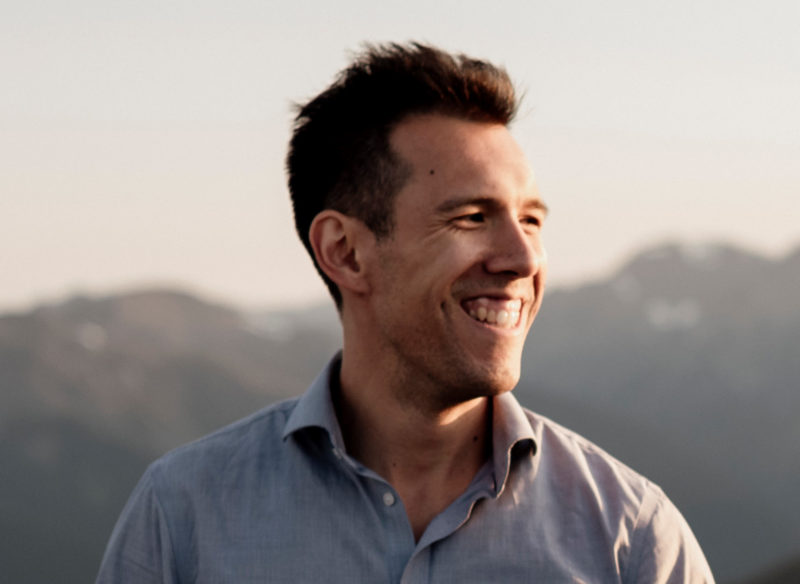 A recent graduate of Warren Wilson College's MFA Program for Writers has received a prestigious Fulbright Scholarship.
The scholarship will enable Daniel Tam-Claiborne '20 to pursue ethnographic research and write a novel that addresses questions about culture, identity and belonging against the backdrop of contemporary U.S.-China relations.
"My project will allow me to experience the world of my characters, enmeshing myself with the people and places that celebrate their true complexity," Tam-Claiborne said. "Through it, I hope to bring about a renewed understanding of the people—strangers and natives alike—who make China home."
He said writing can be a powerful tool for reaching people on a more individual level, and he hopes the novel will serve as a vehicle for social change.
"As humans, we are primed to feel uneasy and even adversarial towards people and experiences that we don't understand or find difficult to relate to. But what would it mean to have a portrait of U.S.-China relations that was more complicated than the static headlines we often see portrayed in the news?" Tam-Claiborne said. "In an increasingly divided world, writing can be a tool for bridging that distance, to break free from the way we see ourselves and more fully embrace others."
Though his project has been delayed until at least January of 2021 due to COVID-19, Tam-Claiborne said the public health crisis has impacted his project in ways he couldn't have imagined when he originally wrote the proposal.
"Certainly in the pre-COVID era, things were not rosy in terms of U.S.-China relations, with respect to the trade war and long-standing social and political tensions," Tam-Claiborne said. "One of the biggest changes that has occurred recently is the coronavirus, which has very much pushed my novel into this present moment."
The novel, titled "Transplants," focuses on the story of Liz and Lin—two women of Chinese heritage— who do not feel at home in either of the two countries of their parentage, and whose uneasy friendship at a rural university in China radically changes the trajectory of both of their lives. Tam-Claiborne's research project involves conducting ethnographic research to develop these two protagonists. Liz—who is American—moves to China in the wake of her mother's death to unravel the mystery of her parents' emigration. Lin, meanwhile, transfers to a community college in the US after a relationship with a foreign teacher gets her expelled from her Chinese university.
"While there are increasingly more works of fiction that deal with the position of Chinese in America or Americans in China, relatively few delve into the politics and the particularities of Chinese Americans in China," Tam-Claiborne said. "I hope to continue in the tradition of writing about the Asian diaspora and the universal feelings of loss, displacement, and the search for meaning in foreign places."
The first part of Tam-Claiborne's research project will take place at South China Normal University (SCNU) in Guangzhou, located in the Guangdong Province. He will participate in the Sun Yat-sen University International Writers' Residency, which combines writing with literary and cultural exchanges, and the teaching of creative writing. Tam-Claiborne said he plans to use a combination of participant observation and phenomenology—qualitative methods he studied as a graduate student at Yale University—at SCNU to understand the experiences of Chinese students who have studied at American colleges.
Later on, he will travel to his ancestral village in Taishan to do field research on the history, development, and evolution of the village and its inhabitants.
His novel is influenced both by his grandparents' own migration story and his own experience growing up half Chinese in the U.S. Tam-Claiborne, whose father is American and mother is an immigrant from China, said he grew up grappling with an identity he could not easily classify, and that only intensified when he graduated college in the U.S. and began teaching English in rural China.
"This story connects to larger ideas that are being faced by people all over the world—of migration, of belonging, of being turned away because of certain aspects of their identity that are immutable, that they are born with, that they can't change," Tam-Claiborne said. "I don't imagine that this will speak to or answer all of those questions, but I hope it will provide a little bit of light, some kind of respite for people feeling stretched between places or not having a sense of home."
The Fulbright U.S. Student Program is one of the most widely recognized and prestigious international exchange programs in the world. Sponsored by the U.S. government, the program supports research, study and teaching in more than 140 countries.
"Our program is proud of Daniel's achievement, and thrilled that he'll have this invaluable opportunity in China, post-graduation, to teach as well as to research and develop his MFA thesis into the novel he envisions," said Debra Allbery, director of the MFA Program for Writers at Warren Wilson College.
Tam-Claiborne, who will graduate from the MFA Program for Writers in July, said being part of the program at Warren Wilson College transformed his life and helped improve his writing in ways he couldn't have imagined.
"It's not only that it's given me a host of opportunities I hadn't known about before, but a whole community has opened up that I was never aware of," Tam-Claiborne said. "It's been a huge culture shift in terms of how I see myself as a writer after having the experience of meeting faculty and being exposed to an incredible cohort of people who are all passionate about the same things."