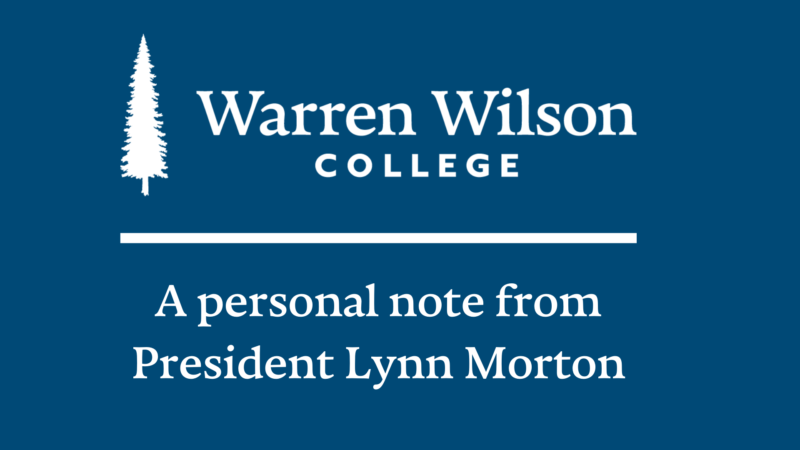 Dear Campus Community,
Last week, as the circumstances of George Floyd's death became known, a violent and unspeakable death at the hands of a white policeman in the presence of other white people, yet another violent and unspeakable act against a black American, I felt great anger and deep sadness, yet I knew that what I felt was just a fraction of what people of color and their loved ones feel at this time, and all the time. I became even more aware that I must act and speak as a white person who must no longer remain silent in a public role. I speak here from my heart, not as "the president" who feels obligated to make a statement. 
Our own Reggie Tidwell, former Director of Creative Services, posted an emotional response on Facebook last week, and I felt the impulse to add my own expression of grief and horror, and support for Reggie and all people of color, but I did not. I couldn't find the words, and quite honestly I struggle to find the words here. Like so many other well-intentioned white people, I was afraid that I wouldn't say the right thing. But as members of our own community have expressed their feelings of fear, anger and despair over the state of our country, I have come to realize that white people, and particularly white people in influential positions, cannot be silent any longer. A message thread started by our own Dr. Rima Vesely-Flad on Faculty-L and the responses to that initial message prompted me to write this to you. 
We just cannot continue to wittingly or unwittingly contribute to the cycle of oppression and violence against people of color in a country that lays a claim to equality for all. I have found a provocative social media site in recent days called Equality Includes You that has challenged me to stop fearing public reprisal from what I might say and to step up in solidarity with others who are resisting our country's slide into more racism, oppression and violence. Once I was an activist, in a time that was barely post-segregation, and then over the years as a professor I became quiet, and then as an administrator I became even more quiet. I realize now that was the opposite of what should have happened. 
This is my heartfelt message to you all. We will not be quiet. We stand in solidarity against racism, violence and all forms of oppression. I stand beside you all against this existential threat to individuals and our country.
In Community,
President Lynn Morton
What can we do? This article provides a starting point. It was originally published in Equality Includes You. https://medium.com/equality-includes-you/what-white-people-can-do-for-racial-justice-f2d18b0e0234