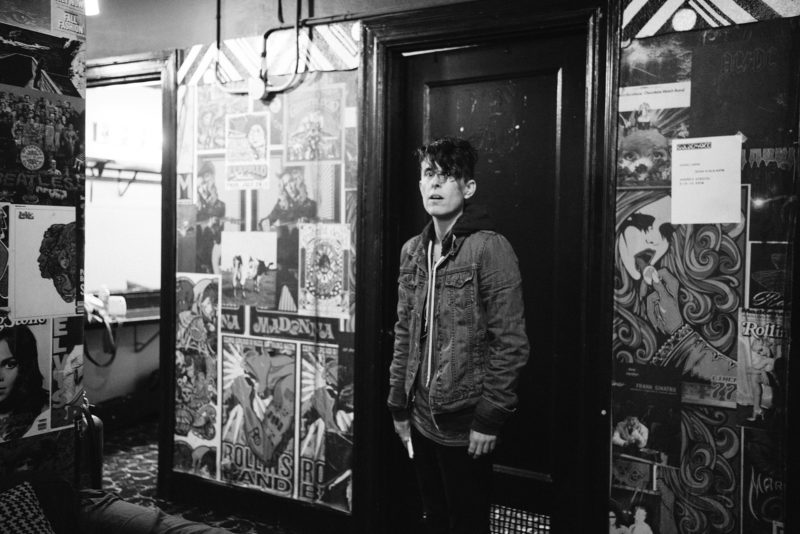 Update: In keeping with the current campus guidelines in response to COVID-19, the Harwood-Cole Memorial Literary Lecture featuring a performance by Andrea Gibson on March 22, 2020 has been postponed.
We are extremely disappointed to postpone this event, but of course the health of our community is our first priority. We are working with Andrea's team to reschedule for a future date. If you have reserved a complimentary seat or purchased a ticket for this performance, we will follow up with you as soon as details for a rescheduled event are confirmed. Thank you so much for your interest in this performance.
—
Award-winning spoken word poet and author Andrea Gibson will perform at Warren Wilson College on Sunday, March 22, 2020 at 4 p.m. as part of the Harwood-Cole Memorial Literary Lecture series.
Gibson (who uses the nonbinary pronouns they/them/their) is one of the of the most captivating and influential performers in the spoken word poetry scene today. The first winner of the Women's World Poetry Slam, Gibson has headlined prestigious performance venues all over the country and abroad.
At the Warren Wilson event, Gibson will perform poetry that focuses on gender norms, politics, social reform, and the struggles LGBTQIA+ people face in today's society.
Warren Wilson College is consistently rated one of the most "LGBTQ-Friendly" colleges in the U.S. According to the school's Interfaith Diversity Experience and Attitudes administered in the fall of 2018, 49 percent of students identify as heterosexual — the other 51 identified as LGBTQ or other, compared to approximately 10 percent nationally.
"We're thrilled to host Andrea Gibson as the speaker for this year's Harwood-Cole Memorial Literary Lecture," said Zanne Garland, vice president for advancement at Warren Wilson College. "Andrea is a dynamic spoken word poet and represents an exciting opportunity to highlight a fresh literary perspective as part of this historical lecture series."
Gibson will perform poetry from their newest book, "Lord of the Butterflies," an artful and nuanced look at gender, romance, loss, and family, and also a book of protest. While rioting against gun violence, homophobia, and white supremacy, Gibson celebrates gender expansion, queer love, and the will to stay alive.
"I heard that 'an unspoken poem is a half-finished poem,'" Gibson said. "It's cathartic and once you speak it, you feel connected to healing. I write for words to live out loud, so spoken word as an art form tends to be at its best when you're listening to it and feeling goosebumps on your skin and butterflies in your stomach."
Gibson has authored four full-length collections of poems, published an illustrated book of their most memorable quotes ("Take Me With You"), and released seven albums. Gibson regularly sells out 500+ capacity standing room only venues to eager audiences, further popularizing the art form and creating a space for each person in the room to feel, and to heal.
The event will take place at Kittredge Theatre at Warren Wilson College. Tickets are $10 and will be available March 4 at andreagibson.org.