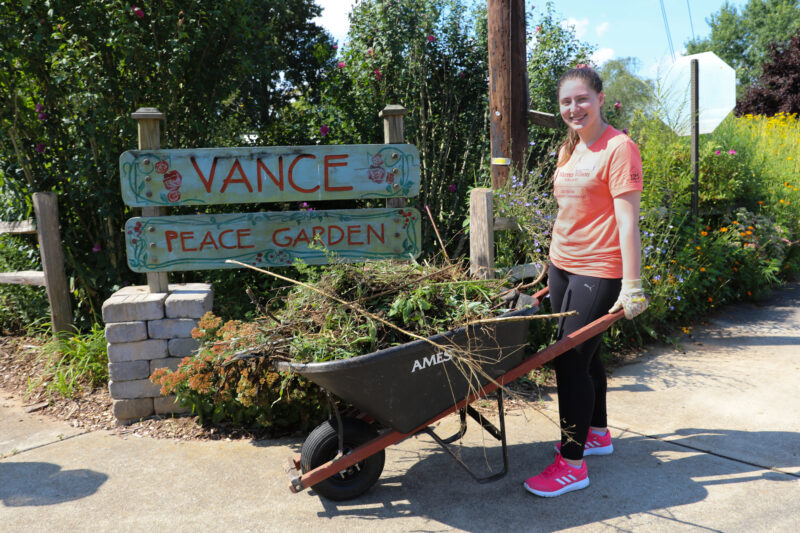 More than 370 Warren Wilson College students, faculty and staff started the school year by volunteering at 23 community nonprofits on Thursday. Sites included community gardens, local schools and food pantries.
Service Day is part of Warren Wilson's new student orientation. It introduces incoming students to a community engagement commitment, which is a graduation requirement at the school.
"For our first-year students, Service Day is the beginning of a four-year commitment to community engagement," said Dr. Lynn Morton, president of Warren Wilson College. "We began this as a graduation requirement in 1960. These new students are following in the footsteps of several generations of Warren Wilson graduates dedicated to serving the larger community and making a lasting difference. And the students are changed and touched by the people they work side by side with throughout the year. That's pretty special."
Together, Warren Wilson students contribute more than 50,000 hours of community service to local nonprofit organizations throughout the year. The school was recently named one of the top 10 colleges "most engaged in community service" by the Princeton Review.
Service Day is one of several community engagement events that the college organizes throughout the year. The school also organizes recurring service trips with local community partners and break trips that sometimes involve travel to other states or countries.
Service is integrated into the college's curriculum, including first-year seminars. For example, on Service Day a first-year seminar on food access called "Everybody Needs to Eat: Food and Wellness" went to Bounty & Soul food pantry to learn about food access firsthand.
"Following Service Day, students continue to work with partner organizations for the entire fall semester," said Dr. Shuli Archer, associate dean of community engagement. "Students build an even deeper understanding of the work of the community partner, and the community organizations benefit from students' time, energy and ideas."
Archer said ultimately the first-year seminar program engages with the community for over 2,600 hours.
First-year student Denise Brown said that the school's commitment to service was a big part of why she chose to go to Warren Wilson College. She said participating in Service Day exemplified that.
"I think it's a really great way to show first years that service goes a long way, and that it's a lifestyle and not just for building a resume," Brown said. "It's pretty exciting to see the impact we had."
The 23 nonprofit organizations where students worked on Service Day included Asheville Greenworks, Beloved Tiny House Village, Black Mountain Neuro-Medical Treatment Center, Bounty & Soul, the Dr. Wilson Garden, the Blue Ridge Parkway, WNC Nature Center and six local schools.