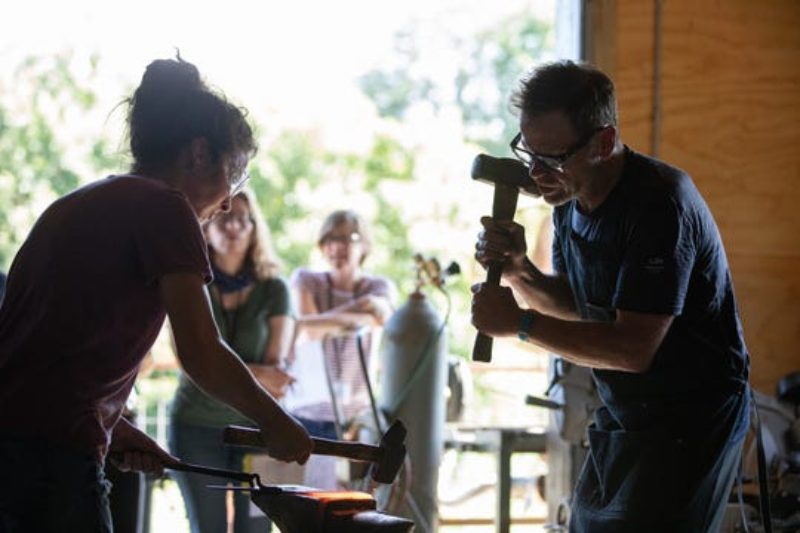 Warren Wilson College will showcase its campus, creativity and craft at the Chow Chow food festival, September 12-15 in Asheville. Chow Chow is a multi-day immersive experience exploring the unique community of creative makers around the city's table, from growers and farmers to brewers and chefs to crafts people and artists.
The blacksmith crew will lead demos at the "Pickled in the Park Grand Tasting" event in Pack Square Park on Friday, September 13. The event celebrates the making, baking, grilling and distilling, music and art that is Asheville with leading tastemakers from across the U.S.
Then on Saturday, September 14, Warren Wilson will host a "Forage + Feast" event presented by Ecolab. Grab a basket and head out on a guided foraging tour with professional foragers, chefs, and beverage professionals. Gather seasonal delicacies, from wild mushrooms to sumac and sassafras, alongside local experts. Then take your harvest into the kitchen, collaborate with the professionals, and enjoy a sophisticated meal featuring ingredients plucked fresh from the forest floor. After foraging with chefs and beverage professionals, you will help cook and make drinks to then eat and drink.
Marilyn Zapf, visiting faculty of the MA in Critical Craft Studies and assistant director at the Center for Craft, the founding partner program for the MA in Critical Craft Studies, is a board member of the festival and has been an advocate for artist representation at the festival.
Check out the write-up in the Asheville Citizen Times about the festival here.