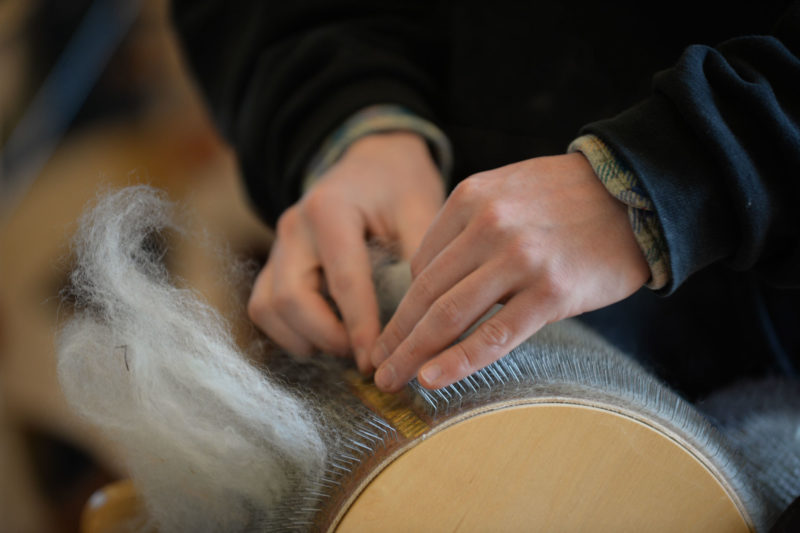 It is not every week that a college receives notification of a $2 million gift, but within one week in April, Warren Wilson College received two separate notifications of $2 million gifts: one a $2 million grant from the Windgate Charitable Foundation to support undergraduate and graduate craft programs and the other a $2 million anonymous unrestricted commitment from a family foundation to help fund strategic investments for the college.
On Friday, April 20, Warren Wilson College received an email from the Windgate Charitable Foundation congratulating the college as the board of the foundation approved a three-year, $2 million grant titled "Undergraduate & Graduate Craft Programs and Center for Craft Partnership." This new three-year grant builds on five years of intensive craft programming at Warren Wilson College, supported by the Windgate Charitable Foundation and the John and Robyn Horn Foundation, which includes creating academic and hands-on craft education and an ongoing partnership with the Center for Craft, the preeminent national arts nonprofit supporting craft in higher education.
As a result of this ongoing support and collaboration, this summer Warren Wilson will launch the first semester of a low-residency Master of Arts in Critical and Historical Craft Studies, the first program of its kind in the United States. The Windgate Foundation has also enabled Warren Wilson to establish a new undergraduate minor in craft, and it has given undergraduate students the opportunity to work each week in incredible fine woodworking, fiber arts and blacksmithing studios at the college with top-notch makers in those fields.
"We are so grateful for the extremely generous support of the Windgate Foundation and the John and Robyn Horn Foundation and for our strong partnership with the Center for Craft," said Warren Wilson College President Lynn Morton. "Warren Wilson is distinctive for our applied learning – in this case, undergraduate programs in craft, and the new master's program builds on this strong foundation in the field. The grant will help us achieve our goal of being educational leaders in the making and study of craft, encouraging our innovative approaches to the discipline."
On Monday, April 23, the college received notification of another multi-year, multi-million-dollar gift. An anonymous donor indicated that his family foundation would make a five-year, $2 million unrestricted commitment to help fund strategic investments led by the President.
"These generous gifts are possible only because our most committed supporters believe in the vision of our new President and the direction she is taking this college," Vice President for Advancement Zanne Garland said. "She has built great relationships with them on behalf of Warren Wilson."
These two multi-million dollar gifts come in the 10th month of Morton's tenure as the college's new president. "This is exactly the kind of support and momentum we're building to make this the best college experience it can be for our students," Morton said.
The large gifts came in the same week that the College launched its first ever All In for WWC Giving Day. Preliminary Giving Day results show that more than $66,000 dollars were contributed from more than 300 donors, representing the most donors that have ever given in a single day to the College on record.
"Gifts at every level matter to us at Warren Wilson, and we're so appreciative of our donors for furthering the mission of the institution through philanthropy," Garland said.
Click here to add your gift to the college's fundraising efforts.
For more information, please call Zanne Garland at 828-771-2038, or email zgarland@warren-wilson.edu.