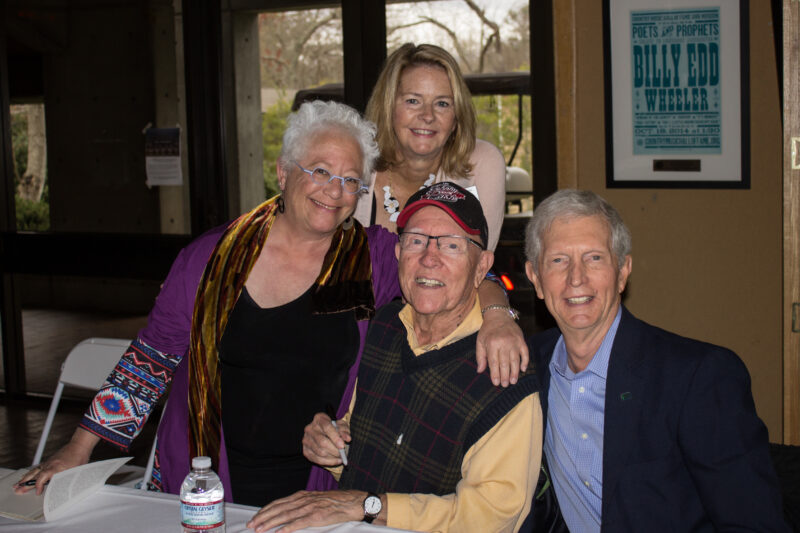 Asheville, NC – Warren Wilson College proudly celebrated alumnus Billy Edd Wheeler ('53) for releasing his new memoir at a completely full house on-campus book release event in the Kittredge Theater on Saturday, April 7. Publisher BMG released the autobiography, Hotter Than a Pepper Sprout: A Hillbilly Poet's Journey From Appalachia to Yale to Writing Hits for Elvis, Johnny Cash & More on April 3 and it is available for purchase on Amazon. The book is an intimate insight into the life and career of the award-winning songwriter, musician, author, playwright, poet, visual artist, folk singer and Appalachian Renaissance man.
The memoir release was covered by a number of media outlets:
Wheeler is best known for penning "Jackson," the Grammy-winning single popularized by Johnny Cash and June Carter in 1967. His songs have been recorded by Country Music Hall of Fame members such as Bill Anderson, Chet Atkins, Bobby Bare, Jim Ed Brown, Glen Campbell, Roy Clark, Tom T. Hall, Elvis Presley, Jerry Reed, Kenny Rogers, Hank Snow, Conway Twitty & Loretta Lynn, and others. He notched his own Top 5 country hit with "Ode to the Little Brown Shack Out Back" in 1964.
Folk artists covering his material include Judy Collins, The Country Gentlemen, John Denver, Hazel Dickens, Richie Havens, The Kingston Trio and Tim O'Brien. In addition, Wheeler has released 20 albums, 14 plays and musicals, nine books, and two collections of poetry.
Wheeler's memoir is populated by a fascinating cast of characters he encountered on his journey from humble Appalachian beginnings to the Nashville Songwriters Hall of Fame. His lengthy career saw the birth of classic tunes such as "The Reverend Mr. Black," "High Flyin' Bird," "The Coming of the Roads," "It's Midnight," "Coal Tattoo," "Coward of the County," and others. Peppered with the folksy wisdom of his beloved region, Hotter Than a Pepper Sprout chronicles the following milestones: Billy Edd's troubled relationship with his volatile stepdad; his time studying at Yale to become a playwright; his years working for legendary songwriter/publishers Jerry Leiber and Mike Stoller in New York's famed Brill Building; his experiences with the Nashville music industry; and his friendship with Chet Atkins.
"When I look at Billy Edd I see two people," writes singer-songwriter Janis Ian in the book's foreword. "The scared little boy who walked a mile through an unlit train tunnel at the age of eleven, with only a sapling he rubbed along the rail to guide him in the dark. He'll say he was running from his abusive stepfather, but he was really running from the life laid out for him, the assumption that it was the only life he could ever live. Then I look again, and I see that incredibly brave little boy from coal country, who left it for the bigger world beyond but kept the best of it alive in his heart. He kept it alive so he could write it and sing it and paint it—and teach people like me about it."
Wheeler received his high school and junior college degrees at Warren Wilson College in 1951 and 1953 before it was a four-year institution. He later received an honorary bachelor's degree from the College. Wheeler heard about Warren Wilson College through the Board of National Missions of the Presbyterian Church when they visited his church in West Virginia. He spent nearly five years at the College and recalls his work there fondly, "I used to milk eighteen cows before breakfast, and deliver milk to all the faculty houses, and then take milk to the kitchen." Wheeler also found love at Warren Wilson when he met his wife Mary, daughter of Dr. Arthur Bannerman, the first President of the College. The landscape of his time spent in the area, where he raised his children and now lives with Mary, influenced Wheeler's art, "It was so inspiring," he said.
The event featured interviews with Wheeler by Doug Orr (President Emeritus of Warren Wilson College and bestselling co-author of Wayfaring Strangers: The Musical Voyage from Scotland and Ulster to Appalachia) and Grammy Award-winning singer/songwriter Janis Ian. The pair contributed an Introduction and Foreword for the book, respectively. The memoir is on sale on Amazon.
What others are saying about Billy Edd Wheeler:
"This memoir is not only the chronicle of a life. It is a winding journey through those years when a folk music renaissance emerged and was sustained in America. And it is recounted for us through the significant people, places and events this son of West Virginia's mountains vividly portrays with a tapestry of story and song that will inspire other troubadours for years to come." – Doug Orr
"I've been charmed and often bowled over by all that this master, Billy Edd Wheeler, does to define our American heritage with his wit, informed optimism, and compassion. He's an icon of Appalachian vernacular with his poetic lyrics and visual art." – Van Dyke Parks
"The recordings I have made of Mr. Wheeler's songs will last through my own lifetime and career and beyond . . . He has added so much beauty to my life." – Judy Collins
"I've seldom had a friend and mentor, musical or otherwise, who has been as responsive and generous with his talents. Just saying the words 'Billy Edd' brings a smile to my face." – George Grove of The Kingston Trio
---
Support Performing Arts and Scholarships at Warren Wilson
At the event, a chair was revealed for Billy Edd because members of the audience had contributed to name a chair in Kittredge Theater in his honor. You can have your name on a chair by contributing to the Take Your Seat campaign.
At the end of the event, Warren Wilson's new President, Lynn Morton, reminded everyone in attendance that the education Billy Edd received at the College would not have been possible without scholarships. Approximately 75% of Warren Wilson students receive some need-based financial aid to attend. Contributing to the scholarship fund ensures that more students are able to have a transformational experience in the Swannanoa Valley like Billy Edd did. Contribute to scholarships here and click "scholarships" on the drop-down menu.