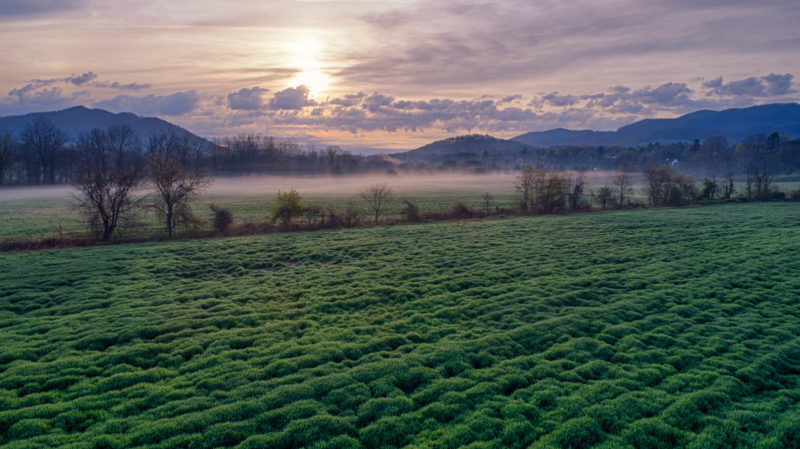 For certain students, a bachelor's degree is just the first step in their academic career. In fact, more than half of new Warren Wilson College undergraduate students say they want to go to graduate school. To help them fulfill their goals and save time and money, Warren Wilson College has partnered with Bard College's Graduate Programs in Sustainability to help environmental studies students graduate with a bachelor's and a master's in five years.
"Partnerships, like this one with Bard College, signal to our students the importance of graduate education," said Lynn Morton, president of Warren Wilson College. "It extends the arm of Warren Wilson College beyond undergraduate degrees to say, 'Once you're our student, we're in it with you.'"
Through the new agreement, undergraduates can opt to participate in the Warren Wilson College Advantage Program (WWCAP) to dual enroll at both campuses. The WWCAP is designed to provide access to partner graduate programs across the country and consists of a variety of benefits for Warren Wilson College students and, in many cases, alumni. For the first three years in WWCAP, students study, work and serve at Warren Wilson College and then complete their education at Bard.
"The 3+2 is an incredible opportunity to accelerate a leadership career in sustainability, whether in business, non-profits or government," said Eban Goodstein, director of Graduate Programs in Sustainability at Bard. "Our 3+2 graduates are entering high impact purpose-driven careers and making a difference in their 20s."
Two Bard College master's programs are part of the new agreement.
The Bard Master of Science degree in environmental policy provides a foundation for work in environmental policy through interdisciplinary coursework in environmental science, environmental and natural resource economics, environmental law and environmental policy. This first-year coursework is complemented by a January term trip to Oaxaca, Mexico, to study international development and a course in GIS. Students then complete a four- to six-month professional internship and a capstone project.
The Bard Master of Science degree in climate science and policy covers the interplay between climate systems, ecosystems and agricultural systems. On the other hand, solutions will train future policy leaders to guide efforts in greenhouse gas mitigation and adaptation. The first-year curriculum focuses on climate science, energy consumption and the agriculture and ecosystem linkages to climate. It connects core scientific principles to socioeconomic impacts, infrastructure investment and political and legislative responses to global climate change. Students in this program also travel to Oaxaca, study GIS and complete a four- to six-month professional internship and capstone project.
"The programs at Bard have Warren Wilson College written all over them," said Paula Garrett, vice president for academic affairs and dean of Warren Wilson College. "Like Warren Wilson, Bard is an extraordinary institution that doesn't try to do everything; it tries to do very specific things well. They are perfect for our students."
Warren Wilson College students must apply for one of the dual degree tracks during the second semester of their freshman year. To be accepted, each undergraduate must develop a plan with their adviser showing how they will complete all general education and major requirements, including Bard pre-requisites, by the end of their junior year. An accepted plan and early enrollment helps ensure students are ready for Bard College before the end of their time at Warren Wilson College.
But just being part of the WWCAP does not guarantee admission to these select Bard graduate degrees. The guarantee is based solely on a recommendation from the WWCAP Admissions Committee; a cumulative GPA above 3.7, which includes any relevant pre-requisites; and a GRE or GMAT score (verbal and math) above the 50th percentile.
As a bonus to the new agreement, Warren Wilson College alumni can pursue a Bard master's through the WWCAP. In addition to Bard Master of Science degrees, alumni can also earn a Master of Business Administration in Sustainability. Along with students, they will receive preferential consideration for the Bard C2C Fellows Network, which is a national program that offers intensive skills-based weekend workshops to young people from across the country. Alumni and students can also participate in the National Climate Seminar, which is a bi-weekly dial-in conversation that features climate scientists, political leaders and policy analysts exploring the politics and science driving critical climate change decisions.
While all Warren Wilson College alumni who graduated with good standing can participate, it is specifically designed for those interested in business and environmental studies. Prerequisites for Bard do not need to be taken at Warren Wilson College for alumni to qualify for the program. Finally, Warren Wilson College students and alumni admitted to Bard through the WWCAP are guaranteed at least a 20 percent tuition scholarship from Bard for the duration of their education and will also be given consideration for scholarships that exceed 20 percent.
To learn more about the WWCAP with Bard College, contact the Warren Wilson College Office of Admissions at (828) 771-2073.