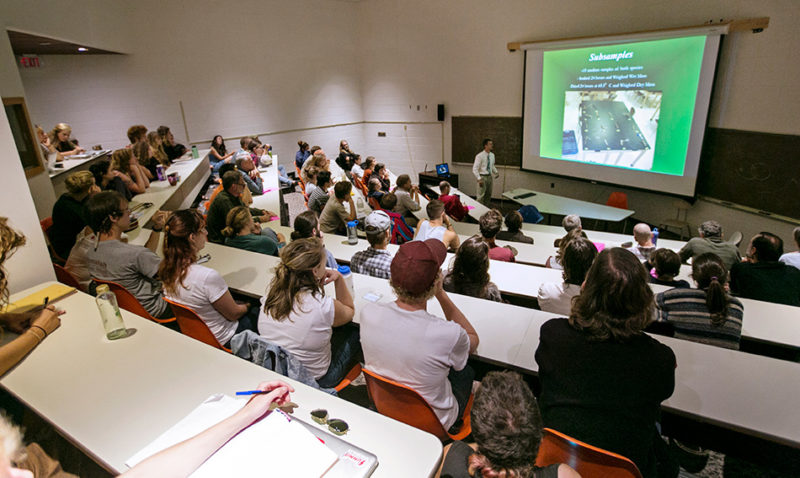 What do graduates want to do after earning a bachelor's degree? Nearly 65 percent of incoming Warren Wilson College students say they want to attend graduate school. In response, Warren Wilson College is forming partnerships with top colleges and universities to increase access to a variety of graduate programs.
"If a student wants to go to graduate school and they have proven they're ready academically, they should be able to take that next step," said Lynn Morton, president of Warren Wilson College. "We now have the ability to offer easier access as a student incentive."
Accelerated enrollment, guaranteed or preferential admission, tuition discounts and guaranteed or preferential scholarship consideration are among the benefits being offered through the Warren Wilson College Advantage Program. While some benefits overlap, degree partner colleges or universities sign distinctive agreements with Warren Wilson College.  As a result, program benefits vary from partner school to partner school.
"Every graduate school partner has been selected by Warren Wilson faculty and advisors to ensure programmatic fit, appealing and substantive benefits and options that accommodate a variety of educational interests and scheduling needs," said Paula Garrett, vice president for academic affairs and dean of Warren Wilson College.
In the next week, three new partnerships will be announced. Among the graduate degrees in the pipeline are a juris doctor and master's degrees in environmental management, forestry, climate science and policy, sustainable business and energy regulation.
Warren Wilson College alumni who graduated in good standing can also get an advantage with some of the new programs.
"The Advantage Program allows alumni to bypass most of the prerequisite requirements for certain graduate programs at other schools," said Jay Lively, alumni manager at Warren Wilson College. "It's amazing to see additional opportunities like guaranteed scholarships and enrollment for certain programs. These are the kind of partnerships that our alumni are excited to see come to fruition. I am really happy my alma mater is giving back to its graduates in such a tremendous way."
Current Warren Wilson College students apply to the Advantage Program during the second semester of their freshman year. Once accepted, students receive specialized support and advising to ensure they remain eligible, meet important deadlines and develop a competitive application. Upon graduation, all students who maintain eligibility will receive an endorsement letter of reference to the program of their choice. This letter guarantees the benefits for each respective program.