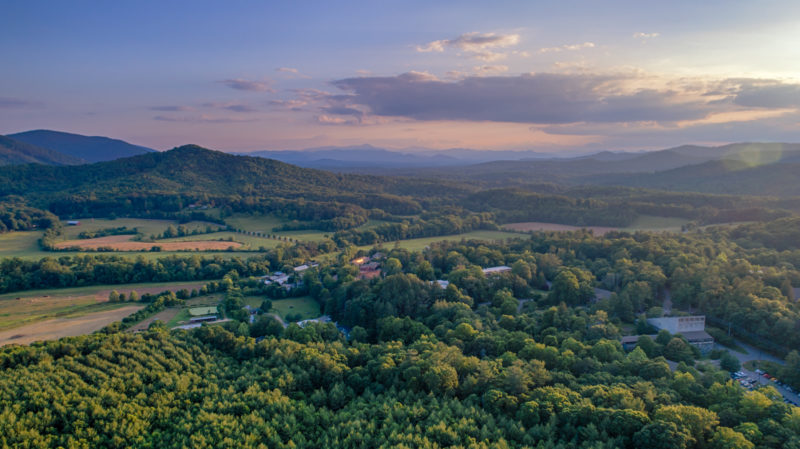 Asheville, NC – Sept. 21, 2017 – The Princeton Review ranks Warren Wilson College as the greenest college in North Carolina. The college admission services company released its "Guide to 375 Green Colleges: 2017 Edition" Wednesday. At No. 48, Warren Wilson outranks the only other top 50 North Carolina institution, UNC Chapel Hill, by one position. College of the Atlantic, Cornell University, Stanford University and Columbia University are also among the top 50.
Amy Knisley, professor and chair of the environmental studies department, said making the top 50 list is an important recognition for Warren Wilson College, but the school always strives to do more.
"One great next opportunity for Warren Wilson College is to look at our emissions again," Knisley said. "We operate so close to the ground that we can exercise a lot more control over our emissions than is readily possible for larger institutions."
Knisley sees campus waste management as another growth area. Earlier this year, Warren Wilson College created a Zero Waste Initiative to divert 90 percent of all campus waste from the landfill by 2032. The plan also looks to reach a 100 percent diversion rate as technology becomes available.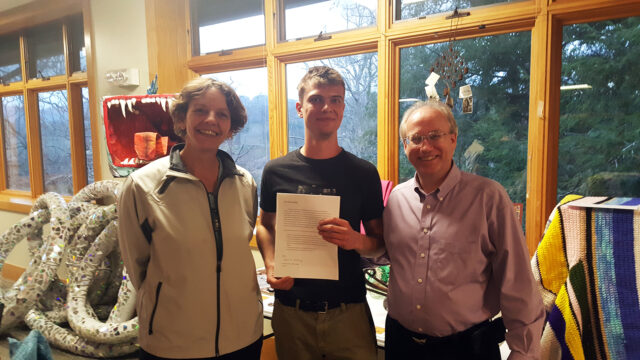 The College is entering its third of a five-year strategy aimed at divesting its endowment completely from fossil fuels. Roughly 84 percent of its portfolio is already divested. With the involvement of students, new investments are being made in companies that demonstrate commitment to environmental sustainability; community and economic development; social diversity in hiring; and transparency and accountability in corporate governance, among other traits.
"We have long been leaders in demonstrating real-time, applied, relevant, 360-degree environmental sustainability operations and programming. I think part of what we do well is to integrate it across the campus so that we can respond effectively to new ideas and new opportunities," Knisley added.
The Princeton Review chose the schools for this seventh annual edition of its "green guide" based on data from the company's 2016-17 survey of hundreds of four-year colleges concerning commitments to the environment and sustainability.
"We strongly recommend Warren Wilson College and the other fine colleges in this guide to the many environmentally minded students who seek to study and live at green colleges," said Robert Franek, senior vice president and publisher of The Princeton Review.
Franek noted the growing interest the company has seen among college-bound students in green colleges.
"Among more than 10,000 teens and parents who participated in our 2017 College Hopes & Worries Survey, 64 percent told us that having information about a school's commitment to the environment would influence their decision to apply to or attend the college," he said.
Knisley said Warren Wilson College takes it a step further.
"Integration of academics and applied learning is the key to a Warren Wilson College education. For example, we have students who are art majors working on the garden crew. They are thinking about sustainably developed fabric dying processes and are cultivating and harvesting plants to create environmentally sustainable dye products. Those same students use those to create art and craft products, for instance in textiles.
"We also see students majoring in the sciences, such as chemistry or environmental studies, who work in the College Forest. They are learning about the variety of medicinal plants that can grow in this area. They then grow and harvest these plants to extract the desired medicinal properties and develop further research projects."
The profiles in "The Princeton Review's Guide to 375 Green Colleges" provide information about each school's admission requirements, cost and financial aid, and student body stats. They also include "green facts" with details on the availability of transportation alternatives at the schools and the percentage of the campus food budgets spent on local or organic food.
In 2013, Warren Wilson College became the first school in the Southeast to commit to the "Real Food Challenge." The vow guarantees Warren Wilson College will procure 40 percent of campus dining facility food from local sources by 2020. As of February 2017, the College reached 36 percent.
In addition to its inclusion in the "green colleges" list, Warren Wilson College is spotlighted in The Princeton Review's "The Best 382 Colleges: 2018 Edition" guide. Within the book, the school is No. 6 on the "Best Career Services" list, No. 4 out of the 20 most "LGBTQ-Friendly" and No. 10 on the roll of colleges and universities with students "Most Engaged in Community Service." Warren Wilson College is also No. 60 on Sierra Magazine's "Cool School" list, among U.S. News & World Report's National Liberal Arts Colleges and a Fiske Guide "Best Buy."
How Schools Were Chosen for the Guide
The Princeton Review created the guide based on "green rating" scores (from 60 to 99) for 629 colleges using data from the 2016-17 survey of school administrators. The survey looked at the school's sustainability-related policies, practices and programs. More than 25 data points were weighted in the assessment. Schools with green rating scores of 80 or higher made it into the guide. The "Top 50 Green Colleges" were determined using data from The Princeton Review's institutional survey for its green rating and student surveys. Ten data points from the institutional survey were factored into the assessment. Data from the student survey included student ratings of how sustainability issues influenced their education and life on campus; administration and student support for environmental awareness and conservation efforts; and the visibility and impact of student environmental groups.
About The Princeton Review
Every year, The Princeton Review helps millions of college- and graduate school-bound students achieve their education and career goals through online and in-person courses delivered by a network of more than 4,000 teachers and tutors, online resources, and its more than 150 print and digital books published by Penguin Random House. The Princeton Review is headquartered in New York, New York. The company is not affiliated with Princeton University. For more information, visit http://princetonreview.com. Follow the company on Twitter @ThePrincetonRev.
About Warren Wilson College
Warren Wilson College is the only national liberal arts college that fully integrates on-campus work and off-campus community engagement into its curriculum. In addition to its innovative experiential program, the College and its 600 students are known for their strong commitment to environmental sustainability, diversity and social justice. The College also features a top-ranked low-residency MFA Program for Writers and a summer-long Swannanoa Gathering of music and folk arts workshops.
Undergraduates represent 40 states and 11 countries, and the College contributes more than 55,000 hours to the community through collaborations with 257 service partners. With sought-after majors in environmental studies, creative writing, global studies and outdoor leadership, Warren Wilson College is a community of scholars producing graduates ready to change the world.