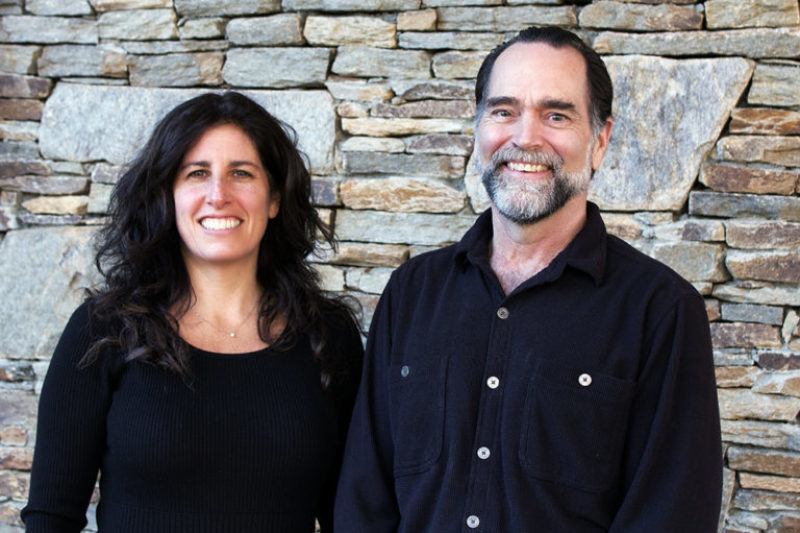 Since the early 1880s, professors have been taking time away from their typical duties at colleges and universities to tackle research projects. Sabbaticals at Warren Wilson College are usually one semester, but two professors have picked up prestigious fellowships to extend their time. With a full year at their disposal, the academics are planning two projects that will directly benefit students and the public.
Professors Paul Bartels and Julie Levin Caro received two of only 16 individual grants awarded by the Appalachian College Association. The money pays for an additional semester of salary and creates time. Caro is using the opportunity to ready an art exhibition centered on a legendary African-American artist's relationship to Black Mountain College. Bartels will focus on a relatively unknown group of animals that offers a unique window into the microscopic world.
In recent years, Bartels, a biology professor, has gained national notoriety for his groundbreaking work with the understudied Phylum Tardigrada, also known as "waterbears." Waterbears are microscopic yet highly complex organisms "unlike any other on earth," according to the professor. He notes the microscopic life forms are famous for their ability to undergo cryptobiosis, essentially reversible death. They are also a crucial component to nutrition systems and are found throughout the world. He expects the new work to continue a legacy of helping students understand the natural world through discovery.
"My research enlivens my teaching in almost every class I teach," Bartels said. "Recently, I authored an interactive, web-based identification key to tardigrades of the Great Smoky Mountains National Park, and I introduce students to this in multiple classes as a cutting edge alternative to field guides and print-based dichotomous keys. And in my biology senior seminar class where we focus on the primary literature, students see firsthand what the publication process is like through my publishing experience."
With 16 papers already published and more on the way, Bartels has become an internationally known expert on the waterbear. He is a sought-after contributor to projects around the world, and he plans to use the sabbatical to enhance his work. He will publish six to 12 more papers and explore new species he and his students have discovered in other countries and closer to home.
"In my research, I have now worked with over 250 Warren Wilson students. For example, this past fall, students in my invertebrate zoology class helped to discover a new species of marine tardigrade, and this became a central focus of the course. They learned about taxonomy and the publication process involved in describing new species. Our paper was tentatively accepted, but reviewers want additional specimens. I will return to Huntington Beach State Park, South Carolina, for additional collections to complete this new species description," he added.
Caro, Lawrence and Black Mountain College
An expert on African-American art, Caro is curating the art exhibition "Between Content and Form: Perspectives on Jacob Lawrence and Black Mountain College." It is set to open at the Black Mountain College Museum + Arts Center in Asheville  September 21, 2018.
"African-American artist Jacob Lawrence and Black Mountain College have both received recent national and international attention with touring exhibitions organized by major art museums, such as the Museum of Modern Art in New York City and the Institute of Contemporary Artin Boston," Caro said. "One of the most widely regarded American artists of the 20th century; Jacob Lawrence has contributed to our nation's cultural history through his extensive collection of paintings, drawings and prints that chronicle African-American history and experience."
At the invitation of art program head Josef Albers, Lawrence taught a painting course at Black Mountain College in the summer of 1946. That visit was "one of Lawrence's first, direct experiences with the Jim Crow South, and although there was a welcoming atmosphere at the College, the artist and his wife never left the campus for the entire eight weeks of their stay," according to Caro. She believes "recent scholarship about Lawrence's politically motivated works of the 1940s sets his Black Mountain College experience in a new light."
As an art history professor, Caro will take the opportunity to delve into more research about Lawrence. Her studies will involve Lawrence pieces and historical information found in collections, museums and galleries across the country. In addition to organizing the exhibition, Caro will oversee the production of a catalogue and numerous related public programs. Plus, she plans to create an undergraduate course around Lawrence's work that will engage Warren Wilson College students and faculty.
"It's an art history practicum course to be taught in conjunction with the Black Mountain College Museum + Art Center's exhibition. It will give students the chance to learn about the history and practice of museum display and museum education. [They will also] develop their own interactive tour for college classes, local K-12 school groups and the general public," she said.
In a release, the Appalachian College Associationreports the fellowships are "named in honor of Jean Ritchie, Wilma Dykeman Stokely and John B. Stephenson." They "are awarded annually and provide from $3,000 to $30,000 for pre- or post- doctoral study." For the 2017-18 academic year, Warren Wilson College was one of four institutions with two winning professors.
To learn more about the Appalachian College Association, visit http://acaweb.org.