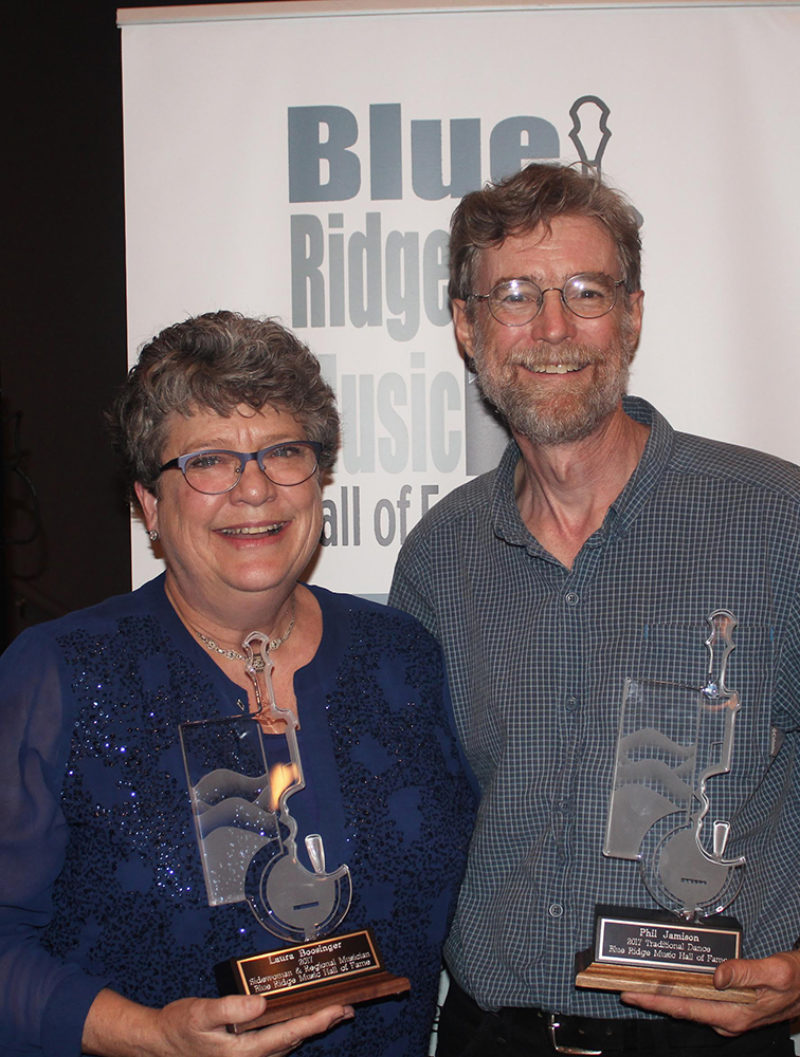 Two-fifths of the Blue Ridge Music Hall of Fame's class of 2017 are part of the Warren Wilson College community. Math and music professor Phil Jamison, who also happens to be one of the world's premiere flatfoot dancers, and 1980 graduate Laura Boosinger, a noted old-time musician and banjo player, were inducted Saturday night in Wilkesboro.
"I feel truly honored to receive this award and to be in the company of some of the seminal figures of Appalachian music," Jamison said.
Jamison was inducted for traditional dance by radio host Paul Brown. On his Facebook page, Brown called it "an honor" to talk about Jamison's achievements in the field. In addition to directing the traditional music program at Warren Wilson College, Jamison is the author of "Hoedowns, Reels, and Frolics: Roots and Branches of Southern Appalachian Dance." The book has been praised for its efforts to dispel myths about Appalachian dance and to shine a light on its multicultural and multiracial influences.
After graduating from Warren Wilson College, Boosinger played in a number of bands, including the Luke Smathers Band as banjo player. Since that time, her stature as a solo performer has been heightened by collaborations with other noted folk musicians, including Josh Goforth, George Shuffler, The Midnight Plowboys and David Holt – another member of the Warren Wilson College community. In addition to her performances, Boosinger heads up the Madison County Arts Council and is a consultant for the Blue Ridge Music Trails of North Carolina.
"I have made a commitment in my life to educate people about this music," said Boosinger. "It's important to make sure young people know about their heritage and how to play music. That's what people did for me, and I have believed in sharing this with the next generation my entire life."
Following their inductions, each honoree performed. Jamison took the stage with Paul Brown, and Boosinger played with the Kruger Brothers. Other 2017 inductees to the hall of fame include bluegrass singer Mac Wiseman, pioneering string band The Skillet Lickers, and songwriter Don Gibson.
The Blue Ridge Music Hall of Fame exists to showcase and preserve the rich musical heritage of the greater Blue Ridge Mountains area from northern Georgia to northern Virginia. The Blue Ridge Music Hall of Fame educates, defines and interprets the history of music in the region with exhibits, an annual celebration of inductees, recordings of performances and an interactive database, according to a release.
For more information about Phil Jamison, visit http://philjamison.com. To learn more about Laura Boosinger, go to http://lauraboosinger.com.