Leah Havlicek receives one of 860 Benjamin A. Gilman International Scholarships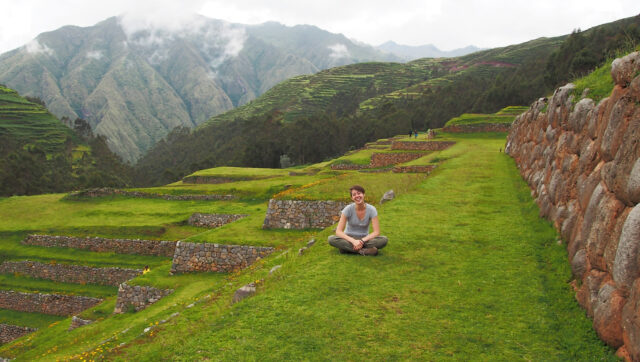 Leah Havlicek knew she wanted to study Spanish in a country filled with native speakers. Peru seemed like the right fit, and she started looking for ways to make the journey more affordable. Following in the footsteps of many Warren Wilson College students before her, Havlicek applied for and received the Benjamin A. Gilman International Scholarship.
The Gilman scholarship, which is sponsored by the U.S. Department of State's Bureau of Educational and Cultural Affairs, is competitive. Last year, only 27 percent of applicants received funding. The spring 2017 award went to 860 scholars from across the U.S., which included 34 studying at North Carolina colleges and universities.
In an email from Peru, Havlicek wrote, "Studying abroad has shown me empathy, given me a wider perspective, and it has challenged me in so many different ways, physically and mentally. It has challenged me to be flexible, be open-minded about trying new things and … living in a city."
Calling Peru "the Midwest of Latin America," Havlicek maintains there is more to her choice of country than just the language.
"It is difficult to understand a different culture from a textbook, so studying abroad has really given me a better understanding of Peru. All of my professors [in the School for International Training (SIT) Peru] are Peruvian, and I am also living with a Peruvian family, who are the best possible teachers that I could have," she added.
Havlicek is entering her final month in the South American republic. She says the experience has already given her a good foundation for her capstone, which is a thesis project required for graduation.
"I will complete an independent research project in June here, and I plan to bring that knowledge back to the states. When I return to Warren Wilson, I plan to do my capstone in relation to what I have learned in Peru. My ultimate goal is to give other students a better understanding of Peru. Studying abroad has reinforced the importance of a global studies major in our world for me," Havlicek acknowledged.
She also credits her global studies professor, Jeff Keith, with helping her prepare for the excursion and upcoming project.
"Thinking globally really prepared me to go abroad. Especially with the independent project that I have to work on, I feel ready to work on it with the past research and knowledge I learned in class," she added.
Keith, fellow professors Christey Carwile and Heather Harvey, and international programs director Anna Welton helped Leah with her application for the Gilman scholarship and guided her through her plans to embed a study abroad experience into her four years at Warren Wilson College. Gilman scholars receive up to $5,000 to apply toward their study abroad costs. The program aims to diversify the students who study abroad as well as the countries and regions they visit. Scholarship recipients have the opportunity to gain an enhanced understanding of other cultures, countries, languages and economies—making them better prepared to assume leadership roles within government and the private sector.
The Gilman scholarship bears the name of former U.S. Rep. Benjamin A. Gilman, who retired in 2002 after 30 years in the U.S. House of Representatives.
To learn about other Gilman scholars at Warren Wilson College, visit https://www.warren-wilson.edu/news/warren-wilson-college-students-awarded-congressionally-funded-scholarships-to-study-abroad.