In advance of her announcement as the eighth president of Warren Wilson College, Dr. Lynn Morton took time to answer a few more questions. Read her first Q&A here.
What do you think about being the first woman president of Warren Wilson College? What does it say about Warren Wilson College?
"Well, it's an incredible honor. It's unbelievable to be, first of all, the eighth president and, secondly, the first female president. As you go up through the leadership ranks in higher ed, you see fewer and fewer females, even though female undergraduates make up the vast majority of our undergraduate populations. Then as you go through a master's and a Ph.D., you see the number of females drop off, and it's certainly true in senior leadership teams. In a 2012 ACE study, women accounted for about 26 percent of all presidencies in the United States, and apparently, that hasn't changed much in the past five years.
"So, it is a huge honor and opportunity to be a female president in these times, and I think Warren Wilson is a great place for that to happen. With the emphasis on inclusivity, on diversity of thought and on looking forward into what the world is and will be in the 21st century, it's the right time."
Warren Wilson College has been stereotyped over the years in one way or another. How will you expand the world's knowledge of Warren Wilson College?
"It's so interesting to me that people always want to see us as having one identity. You know, that's been a topic of conversation at Queens University, where I've been for some time, and I've felt that in my own life.
"Warren Wilson College is also not one thing. It's a complex group of people with different viewpoints and different ways of looking at the world. So as I consider how I will help people understand that I am not one or the other, that one meeting with me does not constitute my entire personality or everything about me, the same is true for Warren Wilson College.
"I think my role will be to help people (who are not within the community) understand really how diverse and complex the College is in many ways. I'd love to spread that regionally for sure. I think locally is easier. But going to meetings, serving on boards and going to national meetings as a way of raising the profile of the College, being able to articulate the complexity of the culture and the diversity of thought that we already have but could do more of, that is what I am really looking forward to doing. It is not so much crafting a new identity, but articulating a more complex identity that is really grounded in truth."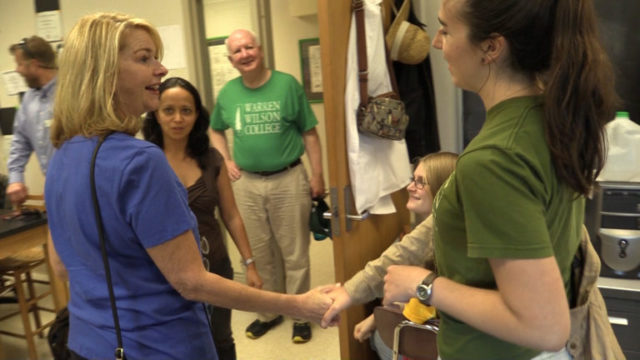 Do you envision changes for Warren Wilson College? How do you believe your leadership will benefit Warren Wilson College for the better?
"Warren Wilson College has a strong foundation, which provides me the right footing to begin my presidency. But in higher ed, we must be changing. We have no choice. We have to be nimble. We have to think about how students learn today. We have to think about what students are looking for, and we can't live in the past. So, I think it's become a common idea now in higher ed that we can't afford to stand still. We always need to be looking at cutting edge education.
"But that doesn't mean that you abandon everything that's good. I think we've got a great way here, over the years, of evolving what has already been built. And that's what I'm interested in – really working with the faculty, staff and students to evolve what is already here."
Sometimes change can be too slow or too fast. Do you know how to strike the right balance?
"I've experienced both kinds of change personally. I've experienced change that was far too slow, and by the time we finished it, it was obsolete. And, I've seen change that was much too fast. So, I think finding that pace is really critical. You've got to push a little bit. I think most people, regardless of where they are, are going to say, 'Wait a second. What's going on here?' You have to listen to those fears, to those concerns.
"But a president's job is to have a vision, to work with other people to realize that vision, to get people on board with that vision. You can't change anything by yourself. You really have to work with everyone else to get it done."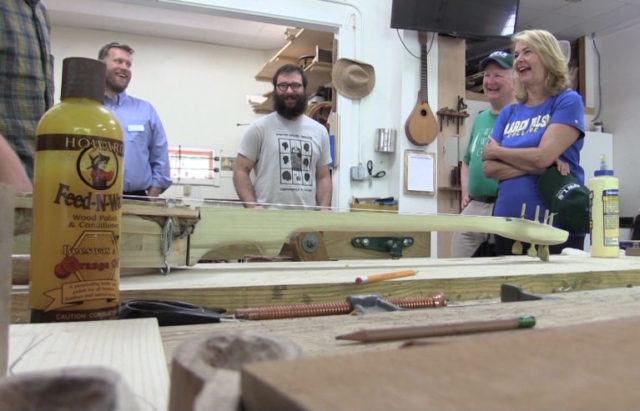 What are your thoughts on the Work Program?
"Well, I'll talk about a couple of experiences I had when I was on campus during my interview that were striking. I was touring the garden, and the professor, who was showing me the garden, and the staff and the crew, noted that some of those students were doing research in the garden. They had plants that they were studying, and they were thinking about horticulture. They were thinking about agriculture. And there were some students who were just tired of thinking and wanted to get out there and weed.
"I think that's what's really important about this work program. It is the value of the work itself. There's something about hard work – whether it's in a lab or whether it's in a field or whether it's in a barn – that makes you feel satisfied at the end of the day. You've accomplished something important.
"And there's the academic work that feeds you as a student and faculty member as you really seek to find new solutions and work on research. So what I'm seeing evolving at Warren Wilson College is a work program that is rooted in that feeling of success at the end of the day. [It's about] putting your hands in soil or working in the laboratory or working in the library and feeling good about that work and, also, integrating that work, when it's appropriate, into the academic programs. To me, that's true evolution. It's not getting rid of something. It's saying how we can evolve this work program so it still does what it's always done and also offers unique opportunities for students."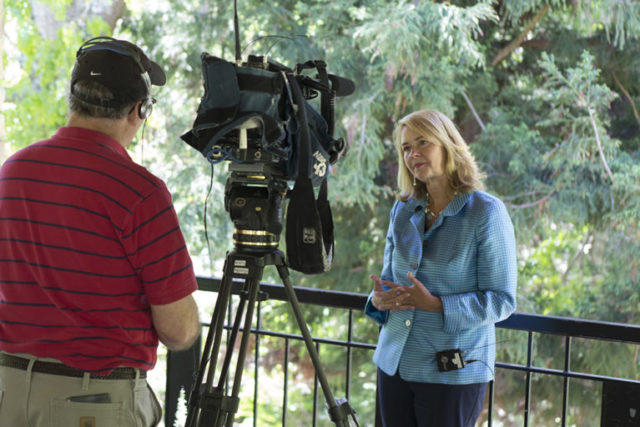 Warren Wilson College has craft initiative. Teaching a trade like blacksmithing is not as common in this country anymore. What are your thoughts on these types of work crews?
"I've long been concerned that we were going to lose every bit of those crafts from the 19th and early 20th century. The number of people who flock to historic locations where they can see those crafts and that are being made is phenomenal. I think there is a deep longing to really have our past as part of our present at the same time that we're looking forward. You know, so it's not an either or.
"I think it's incredible that there are students at Warren Wilson College who are learning these crafts and these trades. And they're also learning how to work in a modern laboratory, how to work video equipment, how to work in the library. I mean there are so many different places that you see Warren Wilson's creativity and ability to move forward and to do a wide variety of things.
"So, I think it's pretty special that we have some plow horses. And I also think it's pretty special that we also have some cutting edge videography, which I saw in the library; some really amazing projects that students are doing; and the integration of science classes with the forest and the field. That is what I mean when I talk about distinctive. It's not just a byline. It's not just a slogan. It's the truly lived experience of being in the past and the present and the future all at the same time."
How are you going to balance all of these competing demands?
"That doesn't seem hard to me, and I don't think I'm being naïve.
"What I currently do is very much like that. I have times when I'm not on campus, and I have a lot of times when I am on campus. So, you will see me on campus. You'll see me walking through. You'll see me probably in my walking clothes in the morning (because I love to walk in the morning), and then you'll see me all dressed up on my way to some meeting or another. But to not be connected to students and the community is not even an option for me."