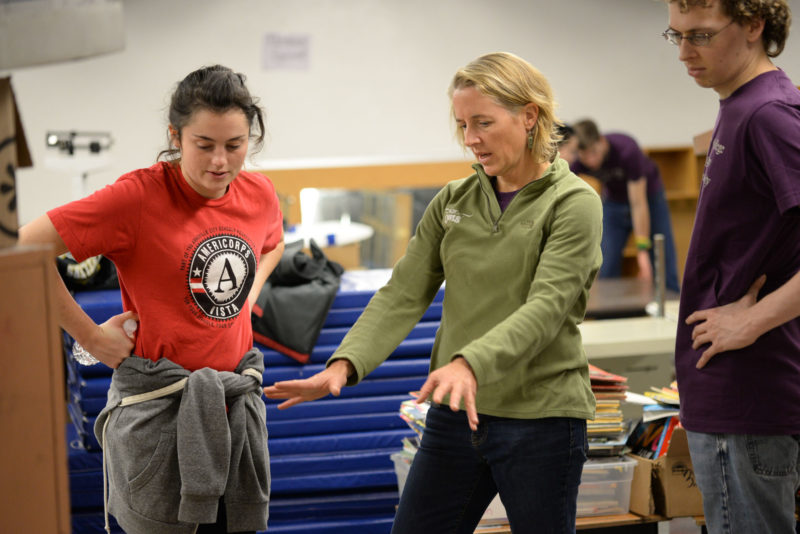 Teacher shortages are a reality for many school districts across the country. Demand for prepared, licensed educators is growing. To take advantage of the trend, two liberal arts institutions are joining forces to make it easier for students to acquire their teaching license.
"I want to jump right into teaching," said A'Aliyah Davis, a sophomore at Warren Wilson College.
Davis recently transferred to the College, but it did not have an option for her to get a teaching license. Despite the impasse, she planned to get the education she wanted and pursue the license from another school after graduation.
Recognizing a reoccurring theme with undergraduates, Warren Wilson College's Annie Jonas started looking for ways to help students secure their licenses.
"How do we offer students who want the Warren Wilson experience – academics enhanced by applied learning through community engagement and the work program – and a teaching license the chance to do both?" said Jonas, who chairs Warren Wilson College's education department.
The answer came from Kim Brown, UNC Asheville associate professor of education and department chair. Brown sees "Warren Wilson College's emphases on service learning and content knowledge" as a perfect match with the mission and goals of UNC Asheville's Department of Education, which focuses on content, pedagogy and professionalism and is accredited by the Continuous Improvement Commission of the Council for Educator Preparation (CAEP). As a result, a mutually beneficial partnership formed to provide Warren Wilson College students with opportunities to obtain their teaching license through UNC Asheville.
Students will complete their disciplinary major at Warren Wilson College while concurrently enrolling in the teacher licensure program at UNC Asheville as early as their junior year. They will complete the teacher licensure program at UNC Asheville immediately following receipt of their Warren Wilson undergraduate degree.
Initially, Warren Wilson College students will be able to take advantage of UNC Asheville licensure areas in K-12 education in art, middle school and secondary education in English, and secondary education in earth science. Additional areas are expected to become available in the coming years.
"I am thrilled about this partnership, and the opportunities it provides to expand access to teacher licensure to Warren Wilson College students. We see this collaboration as a means for further strengthening the field of education and teaching profession," said Brown.
UNC Asheville's Department of Education also offers post-baccalaureate opportunities for individuals who already hold a bachelor's degree or higher and desire an initial North Carolina Standard Professional I Teaching License. The department has earned an "A" from the National Council on Teacher Quality (NCTQ) and in 2015 was named as one of 35 schools most effective at preparing high school teachers with content knowledge. NCTQ also has named UNC Asheville to its Top 25 Best Value list of colleges of education.
Warren Wilson College students are regularly presented with opportunities to explore teaching. The Science, Language Arts and Math – S.L.A.M. – program was created in the last five years to harness Owen Middle School students' interest in the sciences and reinforce language arts and math concepts. Participating Warren Wilson students and others like Davis, an art major, now have a clear pathway to parlay applied learning experience into a teaching career through UNC Asheville.
"I want to be able to become a teacher. I want to work with students. This program makes that goal achievable," Davis said.
Warren Wilson students interested in the partnership program must meet all admissions standards and licensure requirements established by UNC Asheville. Applications are available to students at the end of their sophomore year.
More information about majors and programs at Warren Wilson College.
For more information about UNC Asheville's Department of Education, visit education.unca.edu.