Indonesian government asks native educators living abroad to create global higher ed links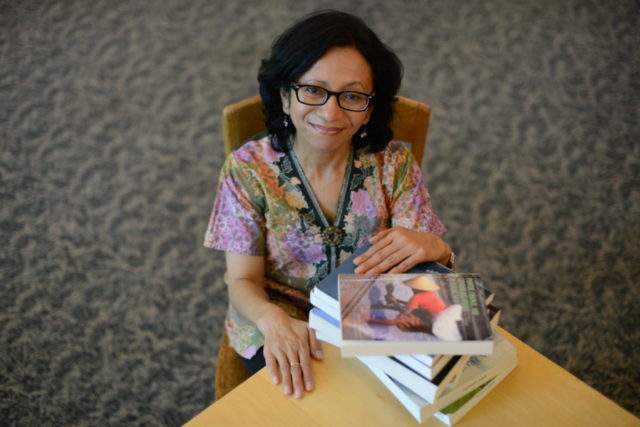 Siti Kusujiarti's lessons in sociology, anthropology and gender education are often delivered through stories from life in her native Indonesia. A professor at Warren Wilson College since 2000, Kusujiarti's work recently caught the eye of the Indonesian government. As an invited guest of the Ministry of Research, Technology and Higher Education of the Republic of Indonesia, she returned to the island nation in December as one of 40 "Traveling World Class Professors."
The ministry selected each professor based on many criteria. According to Kusjiarti, invitees must be at least an associate professor, have worked within the editorial or review divisions of academic journals, and have worked in higher education or at a research institution outside of the republic. Through a partnership with Jenderal Soedirman University (UNSOED), she is supporting faculty members through collaborative research and workshops focused on writing for reputable international journals and publications.
Kusujiarti says the program spotlights Indonesia's willingness to embrace "the notion that educational institutions have been globalized, and Indonesian institutions of higher learning need to be more competitive globally." It also sends a message to her fellow Indonesians and the world.
"Through the program, we demonstrate that we want to help and participate in whatever we can in addressing some challenges in higher education in Indonesia," she said. "This program also shows that the Indonesian government is willing to collaborate with us and recognizes that it's beneficial for both sides to work together."
As her native country taps into its connections around the world, Kusujiarti is ahead of the curve.
"I have been initiating relationships between Warren Wilson College and several universities in Indonesia so that we can do collaborative research and other activities. The students learn global perspectives and get exposure to international and diverse experiences and perspectives. They can also interact directly with faculty, students and staff from other countries. This enriches their learning process," she added.
In addition to her work with UNSOED, Kusujiarti has given public lectures across Indonesia and conducted research. In the summer of 2015, she focused her sabbatical research on deforestation, gender justice and climate change in the province of East Kalimantan. The work, in partnership with Emily Wornell and Ann Tickamyer of The Pennsylvania State University, is published in the Journal of Sustainable Development and in the Environment and the Sustainable Development in Asia journal.
Kusujiarti also contributed a chapter to a book published by The Indonesian Education and Cultural Attaché in Washington, D.C. In the chapter, the professor discusses high impact practices in higher education and Warren Wilson College's work to implement the procedures. The 2016 publication is titled "Bunga Rampai Pemikiran Akademisi Indonesia di Amerika Serikat," which translates to the "Anthology of Ideas from Indonesian Academicians in the U.S."
For more information on Kusujiarti's recent visit to Indonesia, visit http://ristekdikti.go.id/ilmuwan-diaspora-beri-kuliah-umum-di-unsoed.