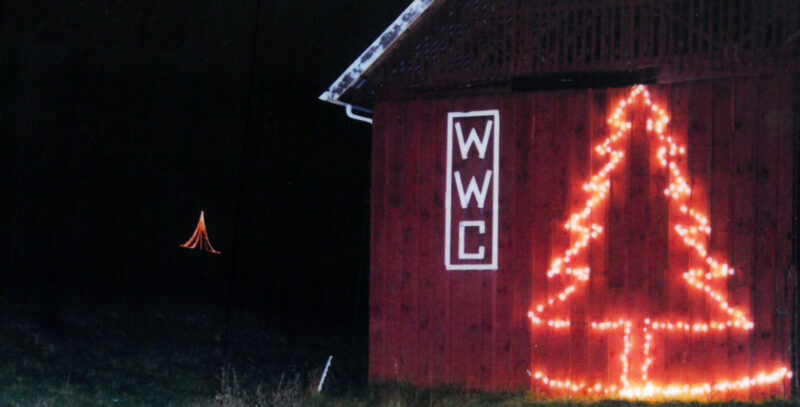 Each year as the fall semester comes to a close, students on the Farm Crew put their personal touch on a Warren Wilson College tradition – decorating the Red Barn with holiday lights.
"People look forward to those lights every year," said Virginia Hamilton, assistant farm manager.
Hamilton would know. As a student on Farm Crew, she helped develop designs and install the lights between 2010 and her 2013 graduation. Now, along with Farm Manager Asher Wright and a small group of students, she ensures the tradition continues.
"We do this, and we've always done it. It's a collaborative thing. We get together and come up with a design. We always try to come up with a different theme every year," Hamilton said.
From her perspective, the Farm Crew has always installed the lights on the Red Barn. But the first documented occurrence saw the White Barn adorned with lights when Ernst Laursen managed the farm between 1957 and 1996. The exact date of the first display is not recorded, but basic designs like trees and bells ruled the day. Since Laursen's retirement, he's noticed another change beyond location.
"In the last 12 to 15 years, they have had some real hard to put up stuff," said Laursen, a 1949 graduate of Warren Wilson High School. "It was very good. I'm sure the students had a lot to do with it. That's good because it helps them contribute [to the tradition]."
He's right. Like previous years, students helped create the 2016 design. Instead of an iconic symbol, the group decided on words – "love above all."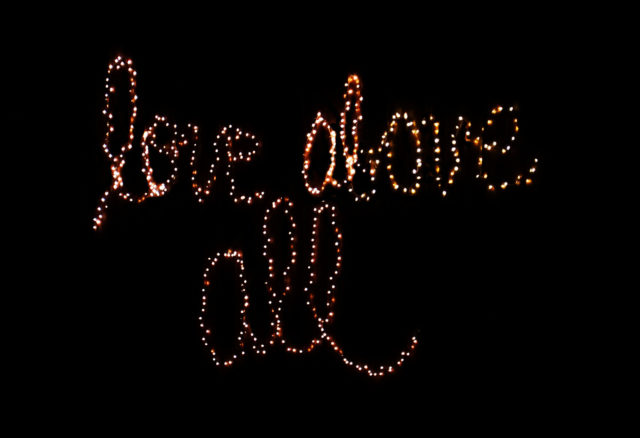 Hamilton says, "It's always a good message. Maybe this year, more so than other years, we need to remember it. We have a lot more in common than we have as far as differences go."
The 2016 display faces central campus, which gives drivers and passengers time to read the message. Despite the change in complexity and design from Laursen's earlier presentations, Hamilton is still targeting the original audience.
"The farm is always really focused on social and community sustainability, and not just environmental. It's a way that we can maintain connection and communication with our community. People really look forward to [the lights], and that's a really important part of being sustainable," she said. "Why not? Love above all."