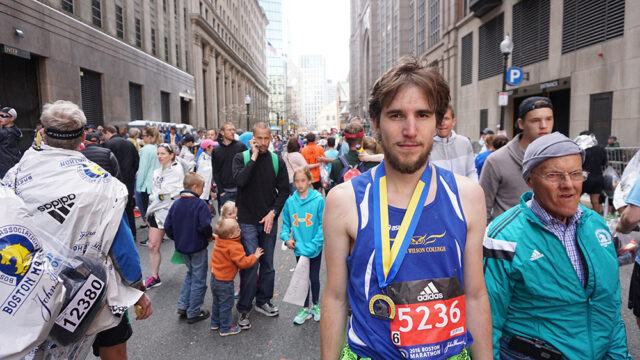 With roughly 500,000 people cheering him on for 26.2 grueling miles, Warren Wilson College senior Gabriel Whitlock entered the City of Boston for the first time on foot. One of 27,487 Boston Marathon starting runners, Whitlock, a Warren Wilson Cross Country team member for his entire collegiate career, finished the 2016 race in a little less than three and a half hours.
"Boston is a monumental achievement," Whitlock said. "Being able to run a marathon is an achievement in itself, but being able to run in Boston is totally different."
According to Boston.com, "surface temperatures were reported to be around 70 degrees." Whitlock said the heat was a factor, especially since he trained for cooler temperatures.
"After the halfway point, I had to start thinking 'one step at a time,' because I was feeling pretty beat. I wanted to make it to the finish line without walking, and I never walk in a race. But, [the race] was pretty tough."
Despite the urge to slow down, he kept pushing and never walked. "It comes back to the endurance aspect," Whitlock, who is majoring in chemistry and psychology, added. "Being on the cross country team helped motivate me [for the Boston Marathon]. But, my ability to finish the race is also attributed to the additional training I went through. From a preparation standpoint, the support of the team members and my coaches helped me get ready for the race."
Whitlock's official finish time is 3 hours, 29 minutes, 23 seconds. Eventual winner Lemi Berhanu Hayle had the slowest race winning time (2:12:45) since 2007. Hayle outran 2015 winner Lelisa Desisa, who finished second, by a little less than a minute, according to the Boston Athletic Association.
As one of 26,639 finishers for the 120th running of the Boston Marathon, Whitlock is satisfied with his effort. "Taking everything into account, I feel like I did pretty well. I finished, and I feel good about how everything stacked up."
While the race was a "bucket list" event for Whitlock, he expects to be back. "I am looking at doing other longer events, like a 50K or a 100K. But, I think Boston is something I would like to do again for fun."
With the race under his belt, Whitlock now has his sights set on graduation.
"To complete the Boston Marathon and graduate in May, it feels pretty special," he said. "Even though marathoning is outside of my academic life, it's still within the realm of my student life. It sums up my educational experience pretty well."
For more information about the Boston Marathon, visit http://baa.org.