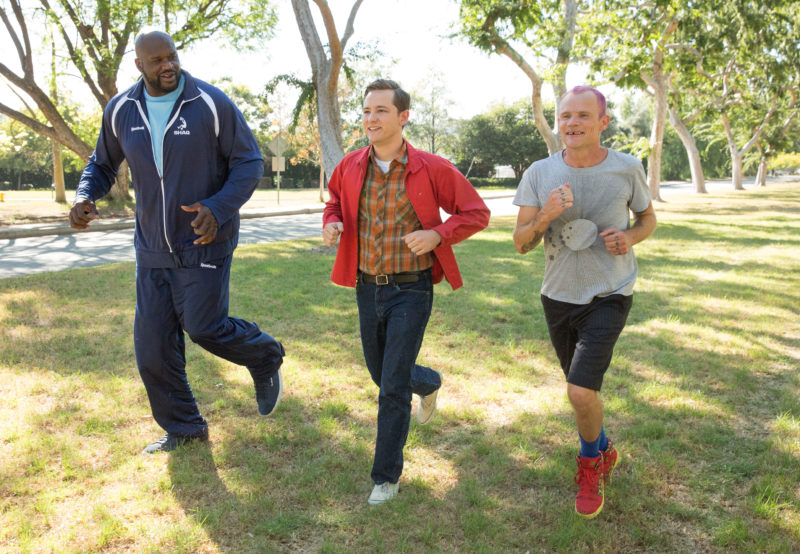 Warren Wilson College 2015 graduate Lewis Pullman is starring in the title role of the new Amazon Studios pilot "Highston," which made its debut Sept. 23, 2015. The Sacha Baron Cohen executive produced comedy also stars Chris Parnell of "Saturday Night Live," Mary Lynn Rajskub of "24" and Curtis Armstrong of "American Dad" along with guest stars Michael "Flea" Balzary of the Red Hot Chili Peppers and Shaquille O'Neal.
"Highston," one of six Amazon pilots jockeying for full season orders, follows the life of Highston Liggetts, "a 19-year-old with a wide circle of celebrity friends—that only he can see. His parents … force him to get psychiatric help, but his Uncle Billy thinks he's just fine. 'Highston' is a comedy about what it means to be normal in a world that's anything but," according to a release from Amazon. Pullman, who names his father, Bill Pullman, along with other actors Philip Seymour Hoffman, Christian Bale and Jimmy Stewart as his influences, adds that the character of Highston is "a bottomless pit of empathy" who is "constantly trying to be this balance beam between his imagination and these friends and family members that he loves so dearly."
He was tapped to submit an audition tape for the role in April 2015 during rehearsal for the Warren Wilson College performance of "The Philadelphia Story." Pullman said the play's director, Department of Theatre Chair Candace Taylor, helped him prepare despite the busy schedule. "She took the time and helped me rehearse it a bunch of times and self-tape it," he said. "I don't think I would have gotten this part without Candace. Needless to say, when I showed up at [Warren] Wilson, I knew I wanted to act, but I was scared … and it was the most terrifying thing ever. Candace worked with me just endlessly."
Pullman said Taylor helped him channel his nervousness into acting, which was similar to the way he viewed his idol Jimmy Stewart's performances. "[Lewis] may be giving me too much credit," Taylor said. "He came [to Warren Wilson] with a great deal of talent, just not a lot of confidence. So that's what we worked on. We met for two years on Saturdays to work on audition techniques."
Majoring in social work turned out to be another key to succeeding in the role. "I think that really had a lot to do with it," Pullman said. Combining the major and an internship with Asheville's AHOPE, a day center for people who are homeless, was "integral and crucial to me getting this part. … Warren Wilson gives you limitless opportunities to experience and learn about such broad things in such a small place."
Now, Pullman waits to see whether his new show will be picked up for a full season. "They say that it's up to the viewer," he said. "The verdict comes around through a process that involves all the ratings." In a release, Amazon encourages viewers to "watch and provide feedback on the shows they want to see turned into full series." All six pilots are available to watch free on Amazon.com.
Entertainment Weekly calls the potential series "incredibly charming, with a premise that's so well-designed to goose standout performances from celebrities, it's surprising that no one has ever thought of it before." And, despite the unknown future of "Highston," Pullman is hopeful. "I think just the concept of having a different celebrity on each episode is a plus, and people want to see where that's going," he said. "If it were to get picked up, it would be the weirdest and wildest experience ever."
As Pullman's career takes off, his former classmates and castmates are performing in the Warren Wilson College Department of Theatre's "Not Suitable for Children" 2015-16 season with the next show, "The Motherf**ker With the Hat" by Stephen Adly Guirgis, running Dec. 3-6, 2015. "Marisol" by Jose Rivera runs Mar. 3-6, 2016, and "Fuddy Meers" by David Lindsay-Abaire is slated for April 28-May 1, 2016.
"It feels good to have a student whom I worked so closely with to be successful so soon," said Taylor. "He had a great deal to do with my choosing the season, and he helped develop characters in two of the plays."
For Pullman, Warren Wilson College is never too far away. "I know I have completely, without a doubt, long-lasting friends … from Warren Wilson that I am going to be in touch with for the rest of my life," he said. "Everyone was just so loving and congratulatory. Even though I am across the country, it was good to re-remember that I am still right there on campus with everybody."