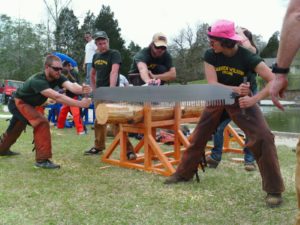 The WWC Timbersports Team took first place in physical disciplines at the Tennessee Stud competition in Knoxville.
Warren Wilson competed against the University of Tennessee, N.C. State University, West Virginia University and the University of Kentucky, finishing first in physical disciplines and third in overall disciplines.
Freshman Mimi MacDonald took Tennessee Mare, the top finisher in all female events. The team took first place in Jack And Jill Crosscut and Men's and Women's Bowsaw; second place in Men's Stocksaw, Men's and Women's Crosscut, Women's Underhand Chop and Knife Throw; and third place in Women's Stock Saw, Men's Underhand and Men's Axe Throw.
Congratulations to the WWC Timbersports Team and Forest Manager and Timbersports Coach Shawn Swartz!