Story and Photo by Paul Clark. Photos courtesy WWC Yearbook Crew.
This article is part of The Story Behind, a regular series that features extraordinary photos from Warren Wilson life. (Click here to see more.)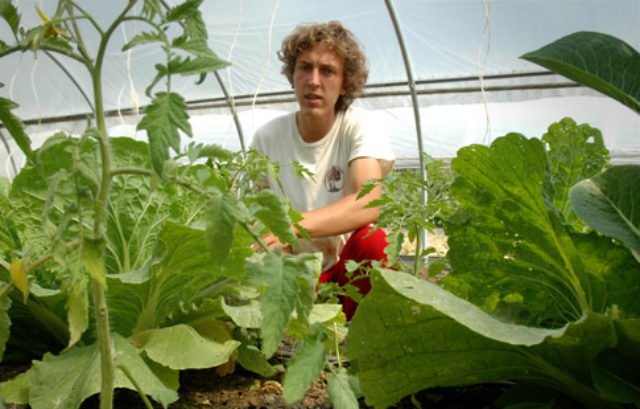 Tall and rangy and wearing bright red pants, Dylan Watters looked a lot like the cherry tomato plants he was stringing up in the Warren Wilson College Garden on a summer morning.
To help them train upward, he and fellow farm crew member Hannah Schiller were delicately tying knots around the plant stems in the Joslin & Parrott Hoop House, one of the greenhouses on the five-acre garden that provides much of the food that Warren Wilson students, faculty and staff eat.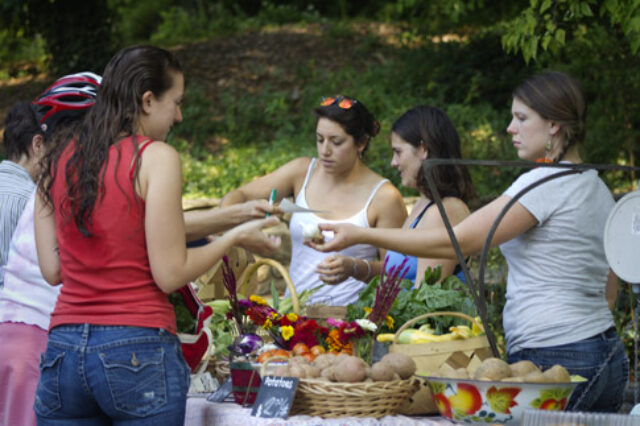 It pleases Watters, a senior from Limington, Maine, when he sees the produce that he and his garden colleagues have grown appear in salads and dishes in the college's cafeterias. It's especially nice, he said, that the kitchen crew notes on the menu board that the food was grown on campus.
"I get excited when I see that," Watters said in a deep voice at home with his easy laugh. "It tastes good. The garden crew has its own kitchen, and sometimes we cook up small batches while we're working. It tastes even better then."
Watters is the current head of the community supported agriculture program at Warren Wilson. Each week, he determines what among the rows of greens, herbs and other fruit and vegetables is ready to pick and how much the garden crew needs to harvest. He weighs it all, and then with a couple of other student leaders, boxes it for subscribers to pick up.
Majoring in environmental studies with a concentration of sustainable agriculture, Watters found his niche through Warren Wilson's triad of work, service and academics. All three are grounded for him in sustainable agriculture, a scholastic direction he discovered through his experience in the college garden.
Watters, who upon graduation plans to help his brother farm the family land in Maine, did his Warren Wilson service work on trails in the Great Smoky Mountains and at a nonprofit agricultural education center west of Asheville. In his junior year, he switched from the landscaping crew to the garden crew. Inspired by the work, Watters read everything he could about gardening. In his agriculture classes, he constantly pushed his instructors about sustainable practices.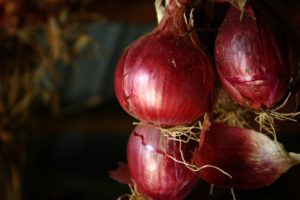 "I learn so much through my own personal research in the gardens," he said, "that I'm always questioning what is the state of agriculture. I have to push that envelope."
Working in the gardens not only relieves stress but also gives him energy, he said. He heads to class more alert and ready to engage.
"One of the good things here about having us work is that everyone is probably more adaptable, ready to take on a full day," he said. "Working here inspires me. I feel productive here."