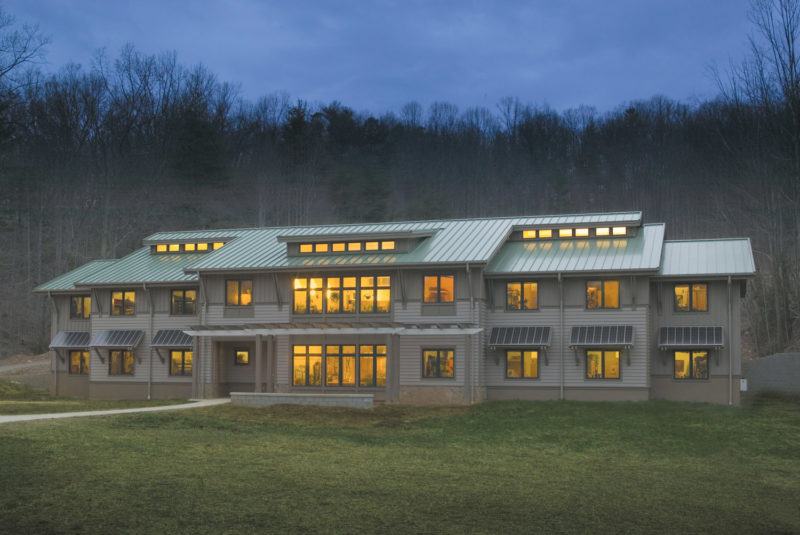 By: Ben Anderson
Warren Wilson's iconic EcoDorm, which opened in 2003 as a pioneering model of energy-efficient building designs and renewable-energy technologies, has become the first building on a college campus to achieve LEED Platinum certification in the Existing Buildings (EB) category. Platinum certification is the highest rating level a building can receive under the LEED system.
LEED, an acronym for Leadership in Energy and Environmental Design, is a rating system of the U.S. Green Building Council that sets standards for the "design, construction and operation of high performance green buildings." The category of Existing Buildings: Operations & Maintenance "identifies and rewards current best practices and provides an outline for buildings to use less energy, water and natural resources; improve the indoor environment; and uncover operating inefficiencies."
Designed by Samsel Architects of Asheville, EcoDorm is a two-story residence hall that houses 36 students each semester. Warren Wilson students were heavily involved in the planning, research and design of the building, which initially had four priorities as a "green dorm": energy efficiency, water conservation, healthy indoor air quality and use of local and recyclable materials. The latter was accomplished in part by ensuring that all wood for the EcoDorm came from the college – either recycled or timber milled and finished on campus.
An EcoDorm committee – including Warren Wilson students, faculty and administrators and Samsel architects – worked to incorporate numerous sustainable design features into the building. Among the more unusual is a 10,000-gallon salvaged train tanker car that holds rainwater used to flush toilets and to irrigate the dorm's permaculture landscape.
Other EcoDorm features include energy-saving technologies such as solar hot water and photovoltaic panels, high-efficiency boilers, and radiant floor heating. A web-based energy-monitoring system also is in place. The N.C. Sustainable Energy Association used data provided by the Warren Wilson campus greening crew to prompt the N.C. General Assembly to enact a law promoting the conservation of energy and water use in state, university and community college buildings.
"LEED provides an excellent guideline and methods for putting 'money where your mouth is' related to sustainable maintenance," said Paul Braese, director of facilities management and technical services at Warren Wilson. "It offers a way to measure, and therefore manage, sustainability via maintenance operations.
"Specifically because of the work on LEED EB at the EcoDorm, Warren Wilson has begun the implementation of sustainability across the campus in the areas of integrated pest management, stormwater control, green housekeeping (procedures, purchases and equipment), low VOC (volatile organic compound) paints and glues, indoor air quality and the use of alternative materials."
EcoDorm joins the Orr Cottage as well as the Village South and Village North residence halls as LEED certified buildings at Warren Wilson. Orr Cottage, completed in 2005, was the first LEED Gold building on a college campus in North Carolina. The Village dorms, which opened a year later, have since achieved LEED Gold for New Construction.